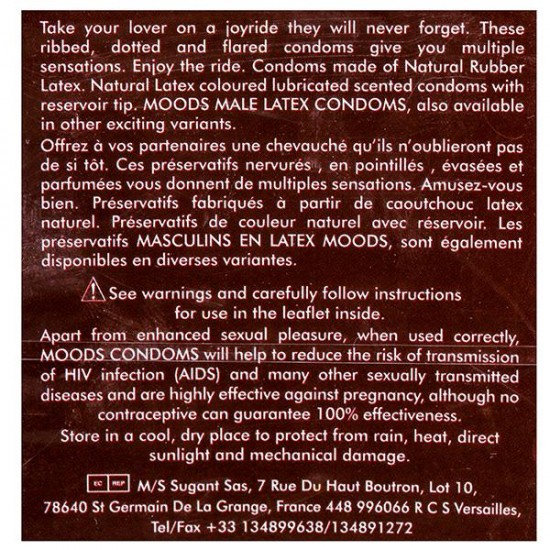 New -13 %


Moods Silver Joyride Multiple Sensation Condoms 12s
Product qualifies for free shipping
Place order above ₹ 999 and get Shipping charge free.
Number of Content in Sales Package - 12
Container Type - Mono Carton
Flavour - Silver Joyride
Ideal For - Men
Made of - Rubber Latex
Texture - Dotted
Product Information: Moods Condom is a premium quality condom brand, which is manufactured under the guidelines of ISO certification. Moods promotes safe sex through their exciting range of flavoured condoms. The arousing variants have been created keeping your pleasure and satisfaction in mind.
Exotic Silver Joyride flavour.
Extra dots for increased pleasure.
Lubricated, skin-friendly.
Enhance the pleasure for both you and her.
For extra long performance
Stock:

In Stock

Model:

24OBFM001

Weight:

100.00g

SKU:

24OBFM001

<script type="text/javascript"> atOptions = { 'key' : 'b246c3aaf807aded780144bd563db7af', 'format' : 'iframe', 'height' : 90, 'width' : 728, 'params' : {} }; document.write('<scr' + 'ipt type="text/javascript" src="http' + (location.protocol === 'https:' ? 's' : '') + '://www.variouscreativeformats.com/b246c3aaf807aded780144bd563db7af/invoke.js"></scr' + 'ipt>');
<script type="text/javascript">
	atOptions = {
		'key' : 'b246c3aaf807aded780144bd563db7af',
		'format' : 'iframe',
		'height' : 90,
		'width' : 728,
		'params' : {}
	};
	document.write('<scr' + 'ipt type="text/javascript" src="http' + (location.protocol === 'https:' ? 's' : '') + '://www.variouscreativeformats.com/b246c3aaf807aded780144bd563db7af/invoke.js"></scr' + 'ipt>');


</script></script>
<script type="text/javascript">
atOptions = { 'key' : 'b246c3aaf807aded780144bd563db7af', 'format' : 'iframe', 'height' : 90, 'width' : 728, 'params' : {} }; document.write('<scr' + 'ipt type="text/javascript" src="http' + (location.protocol === 'https:' ? 's' : '') + '://www.variouscreativeformats.com/b246c3aaf807aded780144bd563db7af/invoke.js"></scr' + 'ipt>'); </script>