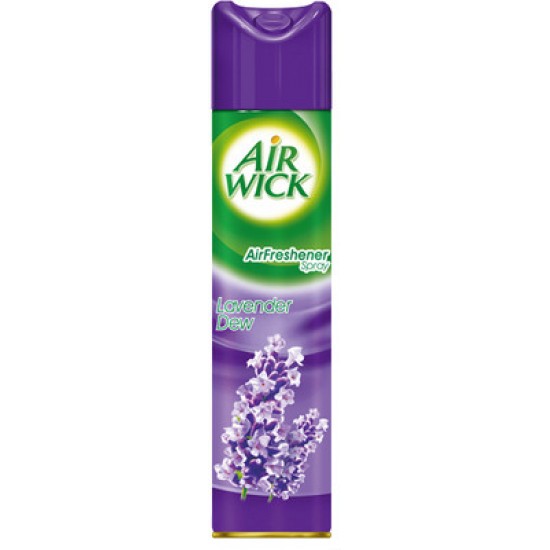 -8 % Out Of Stock
Air Wick Aerosol Air Freshener Room Spray-Lavender Dew
Product qualifies for free shipping
Place order above ₹ 999 and get Shipping charge free.
Air Wick Lavender Dew Aerosol Air Freshener



You have invited your colleagues home for dinner and have prepared delicious dishes for them. Well, the food might taste exotic but your home will be left with an annoying stench of cooked food, mostly if you have prepared your favorite fish curry. So, let not your colleagues guess what's been cooking, rather let them be surprised at the dinner table. Let an exceptional fragrance rule your evening and create an inviting gesture for your guests. To let the air smell exotic and fresh, spray this air freshener from Air Wick and get millions of compliments coming your way.

The understated companion of your beautiful home, this Air Wick Lavender Dew Aerosol Air Freshener contains essential oils that possess relaxing properties and give your home a whole new definition. Liked by both men and women, the garden-fresh scent emitted by this handheld freshener from Air Wick will be liked by each and everyone who step into your home for the party. A secret to a relaxed living, a tip for a beautiful smelling home and a surprise for everyone invited, this Lavender Dew Air Freshener from Air Wick creates an enigmatic feel throughout the eventful evening.

Quick Features
Turn on Romance
Powered 100% naturally
Propelled only by fresh air
Proven to be as long lasting and effective at eliminating even strong odours
Easy and convenient to use
New generation of cleaner & effective air freshener spray
Perfect for home, offices, cars and other areas

Item Specifications
Brand : Air Wick
Quantity : 300 ml
Designed For : Home
Fragrance : Lavender Dew
Type : Handheld
You will get
1 pcs Air Wick Lavender Dew Aerosol Air Freshener (300ml)




Memory
test 1
Lavender Dew
test 2
Lemon Garden
Stock:

Out Of Stock

Model:

HCN517

Weight:

400.00kg

<script type="text/javascript"> atOptions = { 'key' : 'b246c3aaf807aded780144bd563db7af', 'format' : 'iframe', 'height' : 90, 'width' : 728, 'params' : {} }; document.write('<scr' + 'ipt type="text/javascript" src="http' + (location.protocol === 'https:' ? 's' : '') + '://www.variouscreativeformats.com/b246c3aaf807aded780144bd563db7af/invoke.js"></scr' + 'ipt>');
<script type="text/javascript">
	atOptions = {
		'key' : 'b246c3aaf807aded780144bd563db7af',
		'format' : 'iframe',
		'height' : 90,
		'width' : 728,
		'params' : {}
	};
	document.write('<scr' + 'ipt type="text/javascript" src="http' + (location.protocol === 'https:' ? 's' : '') + '://www.variouscreativeformats.com/b246c3aaf807aded780144bd563db7af/invoke.js"></scr' + 'ipt>');


</script></script>
<script type="text/javascript">
atOptions = { 'key' : 'b246c3aaf807aded780144bd563db7af', 'format' : 'iframe', 'height' : 90, 'width' : 728, 'params' : {} }; document.write('<scr' + 'ipt type="text/javascript" src="http' + (location.protocol === 'https:' ? 's' : '') + '://www.variouscreativeformats.com/b246c3aaf807aded780144bd563db7af/invoke.js"></scr' + 'ipt>'); </script>