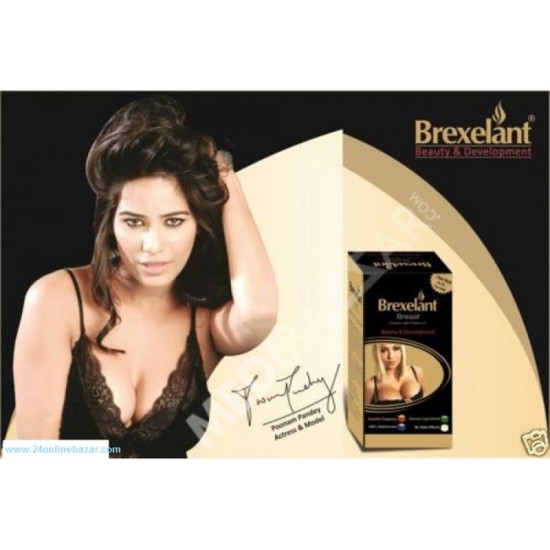 -4 %

Brexelant Breast Enlargement cream - 60 gm
Product qualifies for free shipping
Place order above ₹ 999 and get Shipping charge free.
BREXELANT BREAST CREAM



Brexelant Breast Cream is a unique formulation to make up your breast firmer, tighter, enlarged and more curved in appearance to make your more appealing. Breast Enlargement and firming cream is a very unique formulation which contains herbs & other proven ingredients known for their ability to promote fuller and uplifted breasts.
This product is an herbal-based cream and aims to aid breast augmentation process through natural functioning of the body. It claims to enlarge breasts as well as help in providing firmness to your breasts.
FEATURES
Tightens and improves apparent tone, firmness and contours.
Improves the firm feel of the supporting skin of the breast.
Prevents loss of firmness in the future and enhances the support and contour of the bust.
Improves the visible tone and texture of the skin.
Refines and firms breast contours, enhances the body's youthful qualities.
Helps to promote a full-rounded appearance.
HOW TO USE
"It does not contain any harmful toxic or chemical substances and is only made of Natural Herbal ingredients. So, the cream does not pose any risk to the health of the women using it."
Stock:

In Stock

Model:

HPS1075

Weight:

0.25kg

SKU:

24OBHPS1075

<script type="text/javascript"> atOptions = { 'key' : 'b246c3aaf807aded780144bd563db7af', 'format' : 'iframe', 'height' : 90, 'width' : 728, 'params' : {} }; document.write('<scr' + 'ipt type="text/javascript" src="http' + (location.protocol === 'https:' ? 's' : '') + '://www.variouscreativeformats.com/b246c3aaf807aded780144bd563db7af/invoke.js"></scr' + 'ipt>');
<script type="text/javascript">
	atOptions = {
		'key' : 'b246c3aaf807aded780144bd563db7af',
		'format' : 'iframe',
		'height' : 90,
		'width' : 728,
		'params' : {}
	};
	document.write('<scr' + 'ipt type="text/javascript" src="http' + (location.protocol === 'https:' ? 's' : '') + '://www.variouscreativeformats.com/b246c3aaf807aded780144bd563db7af/invoke.js"></scr' + 'ipt>');


</script></script>
<script type="text/javascript">
atOptions = { 'key' : 'b246c3aaf807aded780144bd563db7af', 'format' : 'iframe', 'height' : 90, 'width' : 728, 'params' : {} }; document.write('<scr' + 'ipt type="text/javascript" src="http' + (location.protocol === 'https:' ? 's' : '') + '://www.variouscreativeformats.com/b246c3aaf807aded780144bd563db7af/invoke.js"></scr' + 'ipt>'); </script>