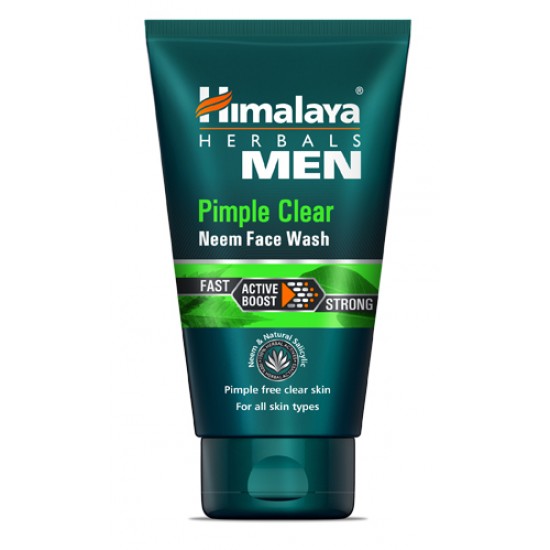 -3 % Out Of Stock
Himalaya MEN Pimple Clear Neem Face Wash-100ml
Product qualifies for free shipping
Place order above ₹ 999 and get Shipping charge free.
Himalaya MEN Pimple Clear Neem Face Wash

Himalaya Men Pimple Clear Neem Face Wash is a soap-free, herbal formulation that helps fight pimples in men. It is a blend of Neem and Natural Salicylic Extract that brings together their antibacterial and antiseptic properties to fight pimples. Our face wash is specially designed for men's skin and contains White Spice Active Boost Technology which helps in the rapid action of herbal actives.

Key ingredient
Neem effectively fights against skin infections, rashes, pimples and dark spots.
Natural Salicylic Extract helps unclog pores, and resolves and prevents damage caused by pimples, giving you healthy, glowing skin.

Directions for use
Moisten face and neck. Apply a small amount of Himalaya Herbals Men Pimple Clear Neem Face Wash. Gently work up a lather using a circular motion. Wash off and pat dry. Use twice daily.


Stock:

Out Of Stock

Model:

HPNH105

Weight:

130.00kg

Himalaya

<script type="text/javascript"> atOptions = { 'key' : 'b246c3aaf807aded780144bd563db7af', 'format' : 'iframe', 'height' : 90, 'width' : 728, 'params' : {} }; document.write('<scr' + 'ipt type="text/javascript" src="http' + (location.protocol === 'https:' ? 's' : '') + '://www.variouscreativeformats.com/b246c3aaf807aded780144bd563db7af/invoke.js"></scr' + 'ipt>');
<script type="text/javascript">
	atOptions = {
		'key' : 'b246c3aaf807aded780144bd563db7af',
		'format' : 'iframe',
		'height' : 90,
		'width' : 728,
		'params' : {}
	};
	document.write('<scr' + 'ipt type="text/javascript" src="http' + (location.protocol === 'https:' ? 's' : '') + '://www.variouscreativeformats.com/b246c3aaf807aded780144bd563db7af/invoke.js"></scr' + 'ipt>');


</script></script>
<script type="text/javascript">
atOptions = { 'key' : 'b246c3aaf807aded780144bd563db7af', 'format' : 'iframe', 'height' : 90, 'width' : 728, 'params' : {} }; document.write('<scr' + 'ipt type="text/javascript" src="http' + (location.protocol === 'https:' ? 's' : '') + '://www.variouscreativeformats.com/b246c3aaf807aded780144bd563db7af/invoke.js"></scr' + 'ipt>'); </script>