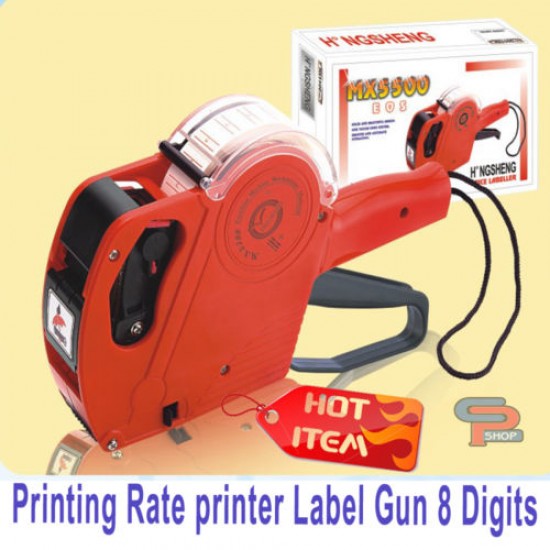 Out Of Stock
8 Digits MX-5500 Price Labeler Tag Gun One Touch Open System
Product qualifies for free shipping
Place order above ₹ 999 and get Shipping charge free.
8 Digits MX-5500 Price Labeler Tag Gun One Touch Open System
Description

Brand new with box.
Solid and Beautiful design.
Refillable ink roller
One touch opening system.
Smooth and Accurate Operation.
Uses universal price labels
Label size 22mm x 12mm
Some example labels are printed in one of the photos above.
Made of high quality plastics.

Package Includes

1 x PRICE LABLLER
Color: Random (yellow/Red/Blue)


Stock:

Out Of Stock

Model:

PPD000

Weight:

250.00kg

<script type="text/javascript"> atOptions = { 'key' : 'b246c3aaf807aded780144bd563db7af', 'format' : 'iframe', 'height' : 90, 'width' : 728, 'params' : {} }; document.write('<scr' + 'ipt type="text/javascript" src="http' + (location.protocol === 'https:' ? 's' : '') + '://www.variouscreativeformats.com/b246c3aaf807aded780144bd563db7af/invoke.js"></scr' + 'ipt>');
<script type="text/javascript">
	atOptions = {
		'key' : 'b246c3aaf807aded780144bd563db7af',
		'format' : 'iframe',
		'height' : 90,
		'width' : 728,
		'params' : {}
	};
	document.write('<scr' + 'ipt type="text/javascript" src="http' + (location.protocol === 'https:' ? 's' : '') + '://www.variouscreativeformats.com/b246c3aaf807aded780144bd563db7af/invoke.js"></scr' + 'ipt>');


</script></script>
<script type="text/javascript">
atOptions = { 'key' : 'b246c3aaf807aded780144bd563db7af', 'format' : 'iframe', 'height' : 90, 'width' : 728, 'params' : {} }; document.write('<scr' + 'ipt type="text/javascript" src="http' + (location.protocol === 'https:' ? 's' : '') + '://www.variouscreativeformats.com/b246c3aaf807aded780144bd563db7af/invoke.js"></scr' + 'ipt>'); </script>