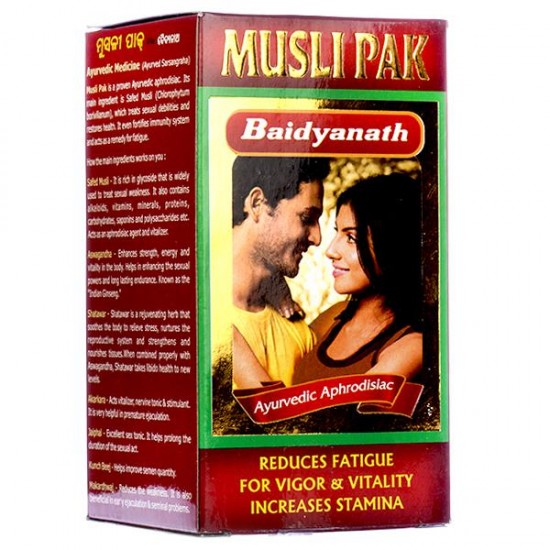 -5 %
Musli Pak Baidyanath Powder-100 gm
Product qualifies for free shipping
Place order above ₹ 999 and get Shipping charge free.
Musli Pak (Baidyanath) Powder 100 gm
Baidyanath Musli Pak is an Aphrodisiac and revitalizing tonic. It is useful for emaciation, lack of strength, vigour and vitality.
Enhances sexual prowess.
Supplies strength, vigour and passion.
Safe, herbal non-hormonal vitalizer.
Musli Pak by Baidyanath enhances sexual prowess while increasing sperm count and supplying strength and vigour to the body. This revitalizing tonic acts as an aphrodisiac that is useful for emaciation and heightened virility, stamina and passion. It boosts immunity and successfully treats conditions like loss of libido, male sexual sterility and premature ejaculation. It relieves stress, which is the main cause of sexual problems. Regular intake ensures long-lasting endurance and erection. Each pack contains herbal ingredients like Musli, Vamsa, Makardhwaja, Goghrta, Sarkar, Vanga Bhasma, Kamal Gatta, Kapikacchu, Goksura, Citraka, Tejapatra, Bala, Satavari, Semal chal, Haritaki, Akarakarabha, Asvagandha, Sthulaila, Jatiphala, Javitri, Kokilaksa, Tvak, Pipali, Marica, Lavanga, Sunthi and Permitted Preservatives Q.S. Due to its herbal composition, it is devoid of harmful side effects. Take 1-2 teaspoonful of the powder every day with warm milk or as directed by the physician. It weighs 100gm.
Stock:

In Stock

Model:

HPN0000

Weight:

250.00kg

<script type="text/javascript"> atOptions = { 'key' : 'b246c3aaf807aded780144bd563db7af', 'format' : 'iframe', 'height' : 90, 'width' : 728, 'params' : {} }; document.write('<scr' + 'ipt type="text/javascript" src="http' + (location.protocol === 'https:' ? 's' : '') + '://www.variouscreativeformats.com/b246c3aaf807aded780144bd563db7af/invoke.js"></scr' + 'ipt>');
<script type="text/javascript">
	atOptions = {
		'key' : 'b246c3aaf807aded780144bd563db7af',
		'format' : 'iframe',
		'height' : 90,
		'width' : 728,
		'params' : {}
	};
	document.write('<scr' + 'ipt type="text/javascript" src="http' + (location.protocol === 'https:' ? 's' : '') + '://www.variouscreativeformats.com/b246c3aaf807aded780144bd563db7af/invoke.js"></scr' + 'ipt>');


</script></script>
<script type="text/javascript">
atOptions = { 'key' : 'b246c3aaf807aded780144bd563db7af', 'format' : 'iframe', 'height' : 90, 'width' : 728, 'params' : {} }; document.write('<scr' + 'ipt type="text/javascript" src="http' + (location.protocol === 'https:' ? 's' : '') + '://www.variouscreativeformats.com/b246c3aaf807aded780144bd563db7af/invoke.js"></scr' + 'ipt>'); </script>