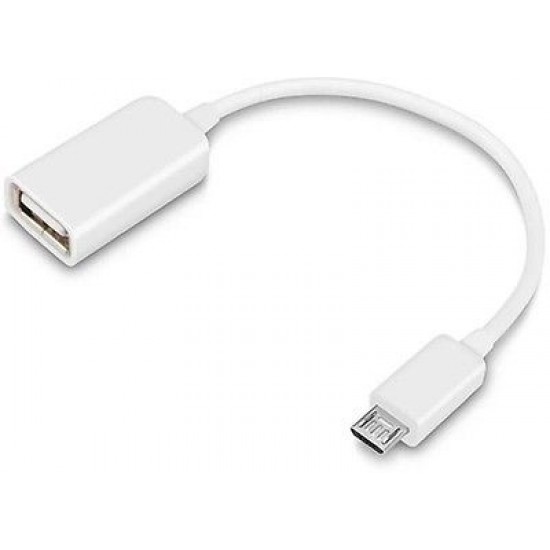 -38 %
Micro USB OTG Cable to Attach Pendrive Mouse Card Reader Cable Android Phones
Micro USB OTG Cable to Attach Pendrive Mouse Card Reader Cable Android Phones
Connect Pen Drive, Mouse & Keyboard with your Phone
With this Micro USB Host OTG cable (On-The-Go cable), you can access most USB Flash Drives, Mouse, Keyboard and etc (note: some external devices may not be compatible).
This cable is the PERFECT LENGTH! Not too short, not too long!
100% brand new and high quality.
Can Attach Pendrive, Keyboards, Mouse, Card Reader
Can charge other mobile using USB data cable.
This Micro USB Male to Female cable is compatible with current USB specifications.
Plug in any USB Device into your phone.
It is easy to operate, just plug and play.
High Speed USB 2.0 certified cable, it can be up to 480 Mbps transfer rate.
Cable length: about 15cm
Color: White

This USB Host Cable also works with most external hard drives, USB Flashs etc.
Depending on your device you may need external power.



Please check that your phone supports OTG ( On the Go) before Place Order.
Stock:

In Stock

Model:

MAD844

Weight:

100.00kg

SKU:

24OBMAD844

<script type="text/javascript"> atOptions = { 'key' : 'b246c3aaf807aded780144bd563db7af', 'format' : 'iframe', 'height' : 90, 'width' : 728, 'params' : {} }; document.write('<scr' + 'ipt type="text/javascript" src="http' + (location.protocol === 'https:' ? 's' : '') + '://www.variouscreativeformats.com/b246c3aaf807aded780144bd563db7af/invoke.js"></scr' + 'ipt>');
<script type="text/javascript">
	atOptions = {
		'key' : 'b246c3aaf807aded780144bd563db7af',
		'format' : 'iframe',
		'height' : 90,
		'width' : 728,
		'params' : {}
	};
	document.write('<scr' + 'ipt type="text/javascript" src="http' + (location.protocol === 'https:' ? 's' : '') + '://www.variouscreativeformats.com/b246c3aaf807aded780144bd563db7af/invoke.js"></scr' + 'ipt>');


</script></script>
<script type="text/javascript">
atOptions = { 'key' : 'b246c3aaf807aded780144bd563db7af', 'format' : 'iframe', 'height' : 90, 'width' : 728, 'params' : {} }; document.write('<scr' + 'ipt type="text/javascript" src="http' + (location.protocol === 'https:' ? 's' : '') + '://www.variouscreativeformats.com/b246c3aaf807aded780144bd563db7af/invoke.js"></scr' + 'ipt>'); </script>