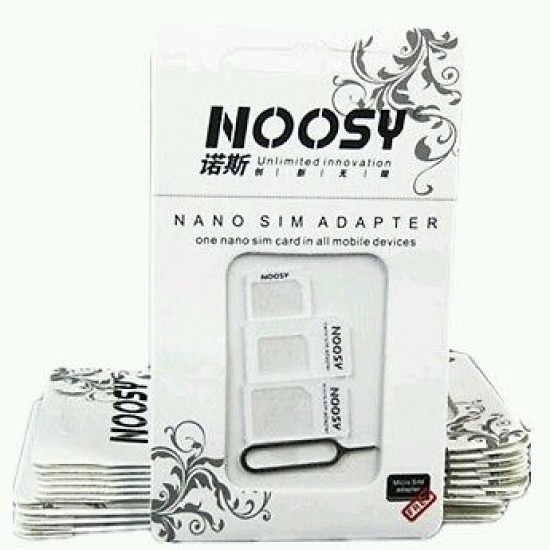 -20 % Out Of Stock
NOOSY 4 in 1 Sim Card Adapter (White)
NOOSY 4 in 1 Sim Card Adapter
Convert Sim from



Nano to Micro SIM
Micro to Normal SIM
Nano to Normal Sim

Noosy Nano Sim card adapter converts your Nano SIM card which can only be used in an iPhone 5 to iPhone 4S, 4, iPad and a full sized SIM card that can work in any phone, laptop or device that has a sim card slot. Makes one sim card on all devices. Easy to install and remove. Include 3 SIM adapters: Nano to micro, Nano to SIM, Micro SIM Adapter. • Durable aluminum alloy material,Uneasy Deformation。 • Upscale metallic blue,metallic red and golden.
Color : White


1 x Nano Sim to Micro Sim Adapter.
1 x Micro Sim Card Adapter.
1 x Standard Sim Card Adapter.
1 x Tray Opener.




Stock:

Out Of Stock

Model:

MAD846

Weight:

100.00kg

SKU:

24OBMAD846

<script type="text/javascript"> atOptions = { 'key' : 'b246c3aaf807aded780144bd563db7af', 'format' : 'iframe', 'height' : 90, 'width' : 728, 'params' : {} }; document.write('<scr' + 'ipt type="text/javascript" src="http' + (location.protocol === 'https:' ? 's' : '') + '://www.variouscreativeformats.com/b246c3aaf807aded780144bd563db7af/invoke.js"></scr' + 'ipt>');
<script type="text/javascript">
	atOptions = {
		'key' : 'b246c3aaf807aded780144bd563db7af',
		'format' : 'iframe',
		'height' : 90,
		'width' : 728,
		'params' : {}
	};
	document.write('<scr' + 'ipt type="text/javascript" src="http' + (location.protocol === 'https:' ? 's' : '') + '://www.variouscreativeformats.com/b246c3aaf807aded780144bd563db7af/invoke.js"></scr' + 'ipt>');


</script></script>
<script type="text/javascript">
atOptions = { 'key' : 'b246c3aaf807aded780144bd563db7af', 'format' : 'iframe', 'height' : 90, 'width' : 728, 'params' : {} }; document.write('<scr' + 'ipt type="text/javascript" src="http' + (location.protocol === 'https:' ? 's' : '') + '://www.variouscreativeformats.com/b246c3aaf807aded780144bd563db7af/invoke.js"></scr' + 'ipt>'); </script>