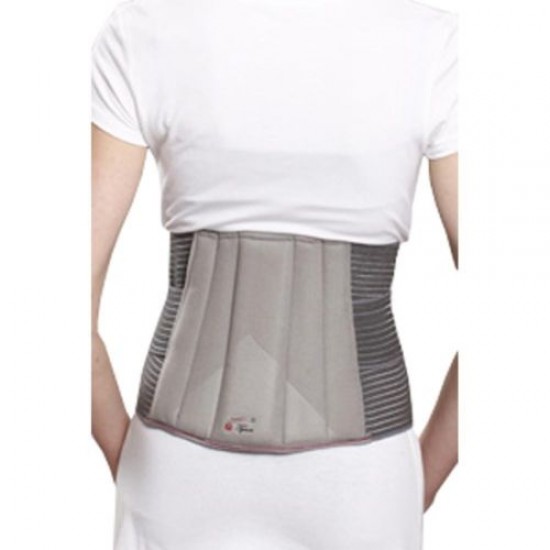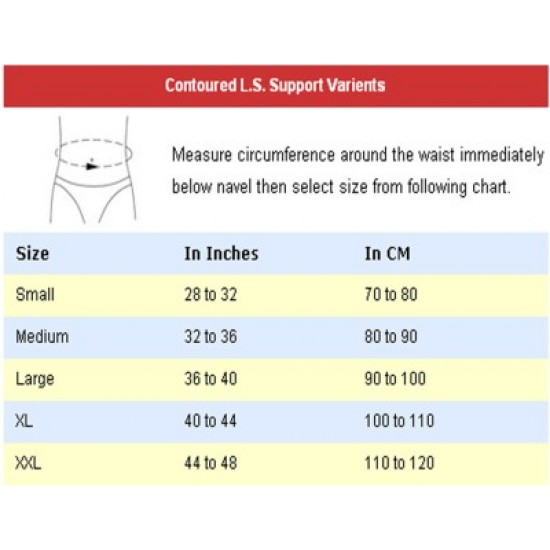 -18 %


Tynor Orthopedic Contoured L S Support / Lumbo Sacral Belt
Product qualifies for free shipping
Place order above ₹ 999 and get Shipping charge free.
Tynor Orthopedic Contoured L S Support / Lumbo Sacral Belt for Back Pain Relief



Tynor's Contoured Support is designed using anatomically contoured malleable splints for correct posture.Double pull mechanism ensures better immobilization.Neoprene back panel ensure ultimate cushioning, aesthetics & life of the belt, making our Contoured Support the best product available in the market.
Long life
Extra porous
Flexi back splinting
Flexible back splinting on application takes the body shape for excellent Immobilization.
Highly porous elastic webbing improves ventilation and patient comfort.
Heat resistant rubber with high modulus of elasticity improves life of the belt.
Double pull mechanism ensures strong fastening for secure fitting around the waist and better immobilization.
Comfortable immobilization provided by the belt makes it an ideal belt for every day use in mild back ache.
1 Pcs x Tynor Orthopedic Contoured L S Support belt

Stock:

In Stock

Model:

HPD562

Weight:

480.00kg

<script type="text/javascript"> atOptions = { 'key' : 'b246c3aaf807aded780144bd563db7af', 'format' : 'iframe', 'height' : 90, 'width' : 728, 'params' : {} }; document.write('<scr' + 'ipt type="text/javascript" src="http' + (location.protocol === 'https:' ? 's' : '') + '://www.variouscreativeformats.com/b246c3aaf807aded780144bd563db7af/invoke.js"></scr' + 'ipt>');
<script type="text/javascript">
	atOptions = {
		'key' : 'b246c3aaf807aded780144bd563db7af',
		'format' : 'iframe',
		'height' : 90,
		'width' : 728,
		'params' : {}
	};
	document.write('<scr' + 'ipt type="text/javascript" src="http' + (location.protocol === 'https:' ? 's' : '') + '://www.variouscreativeformats.com/b246c3aaf807aded780144bd563db7af/invoke.js"></scr' + 'ipt>');


</script></script>
<script type="text/javascript">
atOptions = { 'key' : 'b246c3aaf807aded780144bd563db7af', 'format' : 'iframe', 'height' : 90, 'width' : 728, 'params' : {} }; document.write('<scr' + 'ipt type="text/javascript" src="http' + (location.protocol === 'https:' ? 's' : '') + '://www.variouscreativeformats.com/b246c3aaf807aded780144bd563db7af/invoke.js"></scr' + 'ipt>'); </script>