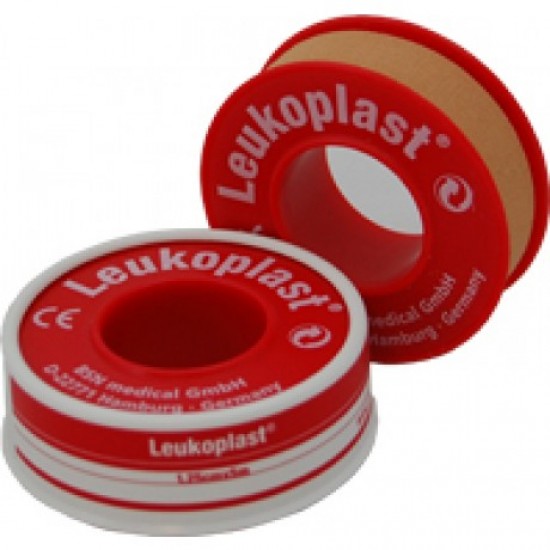 -5 %

LEUKOPLAST 1.25 CM x 1 M
LEUKOPLAST 1.25 CM x 1 M
Leukoplast plaster tape designed on a roll for easy dispensing and is used for fixation of all types of dressings. It adheres very securely and reliably and is water repellent.
Size 1.25 cm x 1 m
Fixation of dressings
Classic tape for normal skin
Securing of tubes, catheters, probes and cannulae
Leukoplast of BN Medicals is a zinc oxide based adhesive that ensures exceptional high initial and permanent adhesion. It delivers unique qualities and benefits in both critical care and everyday situations, when it counts most. It is made of high quality viscose backing material that is extremely resistant to tension making the tape durable. It has special surface treatment that repels dirt and moisture. It gives you a breathable area reducing the risk of skin maceration. It is a smooth, thin, plastic film spread that moulds easily to body contours.
1 x LEUKOPLAST 1.25 cm x 1 m




Stock:

In Stock

Model:

HPN445

Weight:

100.00kg

SKU:

HPN445

<script type="text/javascript"> atOptions = { 'key' : 'b246c3aaf807aded780144bd563db7af', 'format' : 'iframe', 'height' : 90, 'width' : 728, 'params' : {} }; document.write('<scr' + 'ipt type="text/javascript" src="http' + (location.protocol === 'https:' ? 's' : '') + '://www.variouscreativeformats.com/b246c3aaf807aded780144bd563db7af/invoke.js"></scr' + 'ipt>');
<script type="text/javascript">
	atOptions = {
		'key' : 'b246c3aaf807aded780144bd563db7af',
		'format' : 'iframe',
		'height' : 90,
		'width' : 728,
		'params' : {}
	};
	document.write('<scr' + 'ipt type="text/javascript" src="http' + (location.protocol === 'https:' ? 's' : '') + '://www.variouscreativeformats.com/b246c3aaf807aded780144bd563db7af/invoke.js"></scr' + 'ipt>');


</script></script>
<script type="text/javascript">
atOptions = { 'key' : 'b246c3aaf807aded780144bd563db7af', 'format' : 'iframe', 'height' : 90, 'width' : 728, 'params' : {} }; document.write('<scr' + 'ipt type="text/javascript" src="http' + (location.protocol === 'https:' ? 's' : '') + '://www.variouscreativeformats.com/b246c3aaf807aded780144bd563db7af/invoke.js"></scr' + 'ipt>'); </script>