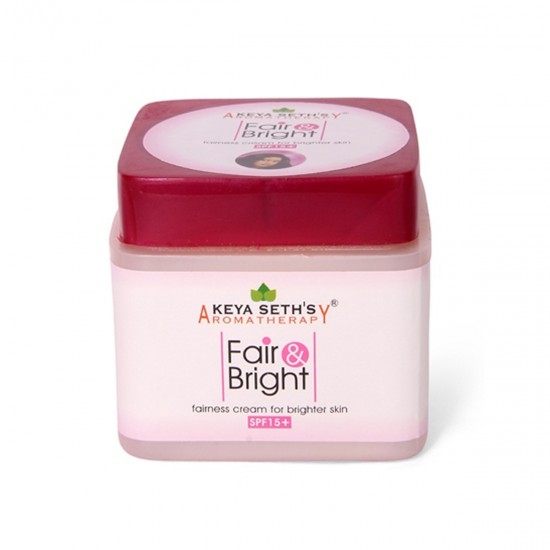 Keya Seth Fair & Bright Fairness Cream for Brighter Skin
Product qualifies for free shipping
Place order above ₹ 999 and get Shipping charge free.
Details:
Keya Seth Fair & Bright Cream
It is a non-greasy cream enriched with the essential oils of carrot seed, kesar (Crocus sativus), lavender, patchouli (Pogostemon cablin) and neroli oil (from Citrus aurantium) mixed in right proportion. This fairness cream lightens your skin remarkably. To protect your skin from sun-tan, it also contains SPF 15+.
How to Use:
Every day after bath and at bedtime lightly massage Fair & Bright on your face and other exposed areas of your body, moving your fingers in a circular motion.
Net Wet. 50gm.

Stock:

In Stock

Model:

HPS1042

Weight:

400.00kg

SKU:

24OBHPS1042

<script type="text/javascript"> atOptions = { 'key' : 'b246c3aaf807aded780144bd563db7af', 'format' : 'iframe', 'height' : 90, 'width' : 728, 'params' : {} }; document.write('<scr' + 'ipt type="text/javascript" src="http' + (location.protocol === 'https:' ? 's' : '') + '://www.variouscreativeformats.com/b246c3aaf807aded780144bd563db7af/invoke.js"></scr' + 'ipt>');
<script type="text/javascript">
	atOptions = {
		'key' : 'b246c3aaf807aded780144bd563db7af',
		'format' : 'iframe',
		'height' : 90,
		'width' : 728,
		'params' : {}
	};
	document.write('<scr' + 'ipt type="text/javascript" src="http' + (location.protocol === 'https:' ? 's' : '') + '://www.variouscreativeformats.com/b246c3aaf807aded780144bd563db7af/invoke.js"></scr' + 'ipt>');


</script></script>
<script type="text/javascript">
atOptions = { 'key' : 'b246c3aaf807aded780144bd563db7af', 'format' : 'iframe', 'height' : 90, 'width' : 728, 'params' : {} }; document.write('<scr' + 'ipt type="text/javascript" src="http' + (location.protocol === 'https:' ? 's' : '') + '://www.variouscreativeformats.com/b246c3aaf807aded780144bd563db7af/invoke.js"></scr' + 'ipt>'); </script>