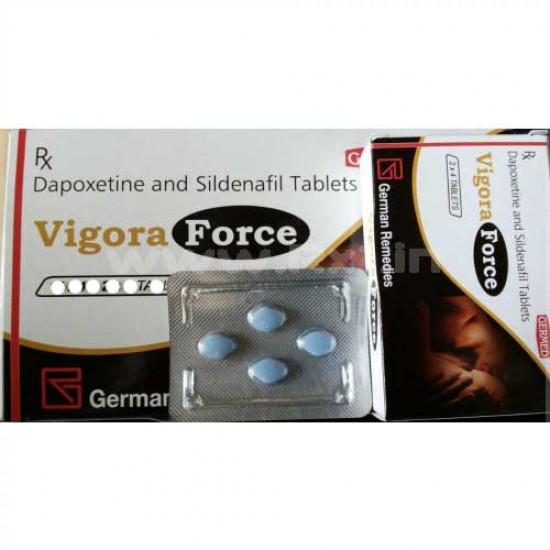 Hot In Stock

Vigora Force Sex Enhancement Tablets (Conceal Shipping)
Product qualifies for free shipping
Place order above ₹ 999 and get Shipping charge free.
Vigora Force tab is Medicine Compostion of Dapoxetine 30mg and Sildenafil 50 mg. It Is generic of Viagra.

It is made by

German Remedies

.
Viagra increases the body's ability to achieve and maintain an erection during sexual stimulation.




It is used to treat impotence in men.




Viagra increases the body's ability to achieve and maintain an erection during sexual stimulation.




Viagra does not protect you from getting sexually transmitted diseases, including HIV.




How to use




Viagra comes as a tablet to take it orally. It should be taken as needed about 30 minutes to 1 hour before sexual activity.




However, Viagra can be taken anytime from 4 hours to 30 minutes before sexual activity.




Viagra Force should not be taken more than Twice a day.




Highly Warnings




Before buying any type Viagra tablet please read below warning very very carefully.




Before

using

this type Medicine you can discuss with your local Doctor.




Vigora Force should not be taken more than once a day.




Avoid taking Viagra




1. if you have had a heart attack, stroke, or life-threatening irregular heartbeats within the last six months.




2. if you have a history of heart failure.




3. If you have coronary artery disease




4. If you have angina




5. If you have high or low blood pressure.




6. If you have liver problems




7. If you have kidney problems




8. If you have ever had blood problems, including sickle cell anemia or leukemia




9. If you have a bleeding disorder




10. If you have a stomach ulcer




11. If you have retinitis pigmentosa (an inherited condition of the eye)




12. If you have a physical deformity of the penis such as Peyronie's disease.




13. If you have a condition that could lead to prolonged and painful erections, such as a tumor of the bone marrow, sickle

cell anemia

, or leukemia; or are taking another medicine to treat impotence.




14. You may not be able to take Viagra, or you may require a dosage adjustment or special monitoring during treatment if

you have

any of the conditions listed above.




15. If you are over 65 years of age, you may be more likely to experience side effects from Viagra.
Viagra is not for women




Although Viagra is not indicated for use by women, it is in the FDA pregnancy category B.




This means that Viagra is not expected to be harmful to an unborn baby. Women should not take Viagra. It is not

known whether

Viagra passes into breast milk.




Side effects




A) Vigora possible Side Effects Like all medicines, Viagra can cause some side effects. These effects are usually mild

to moderate

and usually don't last longer than a few hours. Some of these side effects are more likely to occur with higher doses.




B) The most common side effects of Viagra are

headache

, flushing of the face, and upset stomach.




C) Less common side effects that may occur are temporary changes in color vision (such as trouble telling the

difference between

blue and green objects or having a blue color tinge to them), eyes being more sensitive to light, or blurred vision.




D) In rare instances, men have reported an erection that lasts many hours. You should call a doctor immediately if you ever

have an erection that lasts more than 4 hours.




Storage Of generic Viagra Keep Viagra out of the reach of children. Keep Viagra in its original container. Store at 25°C (77°F);




excursions permitted to 15-30°C (59-86°F).




Highly Warning / Be care Before Use




* Don't take this medicine with Cold Drinks or Soft Drinks Or any Hot Drinks.




* Without inform Don't try to use this medicine that may be the cause of Death.




* Those have Highly Blood Pressure, don't take this medicine.
Stock:

In Stock

Model:

HPN0000

Weight:

50.00kg

<script type="text/javascript"> atOptions = { 'key' : 'b246c3aaf807aded780144bd563db7af', 'format' : 'iframe', 'height' : 90, 'width' : 728, 'params' : {} }; document.write('<scr' + 'ipt type="text/javascript" src="http' + (location.protocol === 'https:' ? 's' : '') + '://www.variouscreativeformats.com/b246c3aaf807aded780144bd563db7af/invoke.js"></scr' + 'ipt>');
<script type="text/javascript">
	atOptions = {
		'key' : 'b246c3aaf807aded780144bd563db7af',
		'format' : 'iframe',
		'height' : 90,
		'width' : 728,
		'params' : {}
	};
	document.write('<scr' + 'ipt type="text/javascript" src="http' + (location.protocol === 'https:' ? 's' : '') + '://www.variouscreativeformats.com/b246c3aaf807aded780144bd563db7af/invoke.js"></scr' + 'ipt>');


</script></script>
<script type="text/javascript">
atOptions = { 'key' : 'b246c3aaf807aded780144bd563db7af', 'format' : 'iframe', 'height' : 90, 'width' : 728, 'params' : {} }; document.write('<scr' + 'ipt type="text/javascript" src="http' + (location.protocol === 'https:' ? 's' : '') + '://www.variouscreativeformats.com/b246c3aaf807aded780144bd563db7af/invoke.js"></scr' + 'ipt>'); </script>