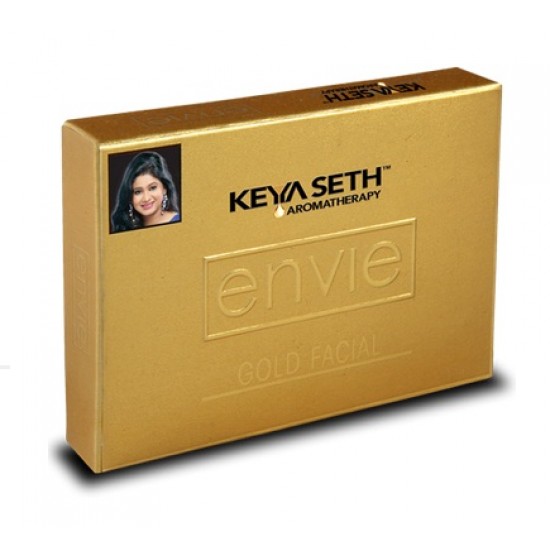 Keya Seth Envie Gold Facial Kit
Product qualifies for free shipping
Place order above ₹ 999 and get Shipping charge free.
Based upon centuries old Ayurvedic therapies that support, balance and bliss in your life, this gold facial is for extra glow. Created by pure and original 24 carat gold dust, fresh green herbs and selected essential oils 'Envie' Gold Kit is a marvel of its kind.


How to Use:
1.Pure Gold Facial Polisher:Lightly apply and massage it gently all over your face for I minute and wash it with clean water. 2.Pure Gold Facial Toning Gel: Spread it on your face softly and keep it for 10 — I 5 minutes. A valuable complex formulation of pure gold and herbs to facilitate the removal of dead cells and impurities - Gold helps in improving skin texture thereby making the skin appear soft and smooth. 3.Pure Gold Facial Massage Cream: A powerful rejuvenating pure gold massage cream that helps to improve blood circulation and restores softness and radiance. It promotes cell regeneration and brings glow to the skin. The precious botanicals and essential oils help to restore the moisture balance to the skin and improves skin's elasticity. Apply and massage your skin for I 0— I 5 minutes and then wipe it off with damp cotton. 4.Pure Gold Facial Pack: It is an exclusive and powerful facial pack which helps to accelerate the regeneration of new cells, improves skin elasticity, rejuvenates the skin and slows visible signs of aging, reduces the appearance of lines and wrinkles giving skin a clear look. Apply the pack all over your face with finger tips or brush and wait for I 5 minutes. Then wash your face with plain water. 5.Pure Gold Facial Nourishing Cream: As for the last step, apply the nourishing cream lightly all over your face and massage gently. You will feel an instant glow and experience a fairer, lighter complexion. Key Ingredient: 24 carat gold dust and leaves, essential oils of neroli, cedarwood, ancalika, ylang ylang, fresh herbs of aloevera, Yasti madhu, Ashwagandha, grape extract etc.
Stock:

In Stock

Model:

HPN5008

Weight:

450.00kg

SKU:

24OBHPN5008

<script type="text/javascript"> atOptions = { 'key' : 'b246c3aaf807aded780144bd563db7af', 'format' : 'iframe', 'height' : 90, 'width' : 728, 'params' : {} }; document.write('<scr' + 'ipt type="text/javascript" src="http' + (location.protocol === 'https:' ? 's' : '') + '://www.variouscreativeformats.com/b246c3aaf807aded780144bd563db7af/invoke.js"></scr' + 'ipt>');
<script type="text/javascript">
	atOptions = {
		'key' : 'b246c3aaf807aded780144bd563db7af',
		'format' : 'iframe',
		'height' : 90,
		'width' : 728,
		'params' : {}
	};
	document.write('<scr' + 'ipt type="text/javascript" src="http' + (location.protocol === 'https:' ? 's' : '') + '://www.variouscreativeformats.com/b246c3aaf807aded780144bd563db7af/invoke.js"></scr' + 'ipt>');


</script></script>
<script type="text/javascript">
atOptions = { 'key' : 'b246c3aaf807aded780144bd563db7af', 'format' : 'iframe', 'height' : 90, 'width' : 728, 'params' : {} }; document.write('<scr' + 'ipt type="text/javascript" src="http' + (location.protocol === 'https:' ? 's' : '') + '://www.variouscreativeformats.com/b246c3aaf807aded780144bd563db7af/invoke.js"></scr' + 'ipt>'); </script>