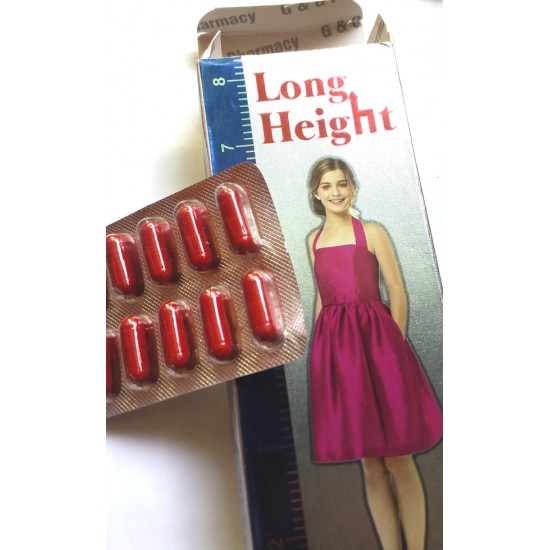 -10 %


Long Height Capsules Increase Height
Product qualifies for free shipping
Place order above ₹ 999 and get Shipping charge free.
Product Description
It can be really tough to see your friends nurture and grow when the equivalent thing is not occurring to you. You may experience like you will never catch to him. People at school may make fun about your short height or flat chest or trunk . To increase height and growth is a major distress in minds of most of the people now a days. A good height no doubt makes you look good, makes you confident and more respectable in your own eyes. If you feel disheartened or depressed or have emotional trauma connected to your delayed in your growth and development, we can facilitate you getting the desired height you always hunted. G & G Pharmacy 'Long Height' capsules is a perfect product to increase our body Height and Growth both similarly. G & G Pharmacy is a GMP & ISO 9001:2008 Certified Company. G & G Pharmacy 'Long Height' capsules is a medical tested on human body both for female and male and its result was more than as expected. You can see the result after 5-6 months from starting date. For best result you have to take this 'Long Height' capsule atleast 3 years continue. You can buy G & G Pharmacy 'Long Height' capsules online very low price at eBayStore nad 24onlinebazar.com in india.

Ingredients
• Shatavar 100mg
• Ashwagandha 100mg
• Akash Bel 50mg.
• Phool Gulab 50mg.
• Musli Kali 60mg.
• Jaiphal 50mg.
• Sunth 45mg.
• Loh Bhasam 10mg.
• Dal Chini 9mg.
• Kesar 1mg.
• Darksha 25mg.
Dosage:
G & G Pharmacy 'Long Height' capsules has to be taken 3 times daily in a day. Result visible from 5-6 months of taking the capsules. For complete result you have to continue 'Long Height' capsules 3 years continue.

Stock:

In Stock

Model:

HPN1084

Weight:

0.30kg

SKU:

24OBHPN1084

<script type="text/javascript"> atOptions = { 'key' : 'b246c3aaf807aded780144bd563db7af', 'format' : 'iframe', 'height' : 90, 'width' : 728, 'params' : {} }; document.write('<scr' + 'ipt type="text/javascript" src="http' + (location.protocol === 'https:' ? 's' : '') + '://www.variouscreativeformats.com/b246c3aaf807aded780144bd563db7af/invoke.js"></scr' + 'ipt>');
<script type="text/javascript">
	atOptions = {
		'key' : 'b246c3aaf807aded780144bd563db7af',
		'format' : 'iframe',
		'height' : 90,
		'width' : 728,
		'params' : {}
	};
	document.write('<scr' + 'ipt type="text/javascript" src="http' + (location.protocol === 'https:' ? 's' : '') + '://www.variouscreativeformats.com/b246c3aaf807aded780144bd563db7af/invoke.js"></scr' + 'ipt>');


</script></script>
<script type="text/javascript">
atOptions = { 'key' : 'b246c3aaf807aded780144bd563db7af', 'format' : 'iframe', 'height' : 90, 'width' : 728, 'params' : {} }; document.write('<scr' + 'ipt type="text/javascript" src="http' + (location.protocol === 'https:' ? 's' : '') + '://www.variouscreativeformats.com/b246c3aaf807aded780144bd563db7af/invoke.js"></scr' + 'ipt>'); </script>