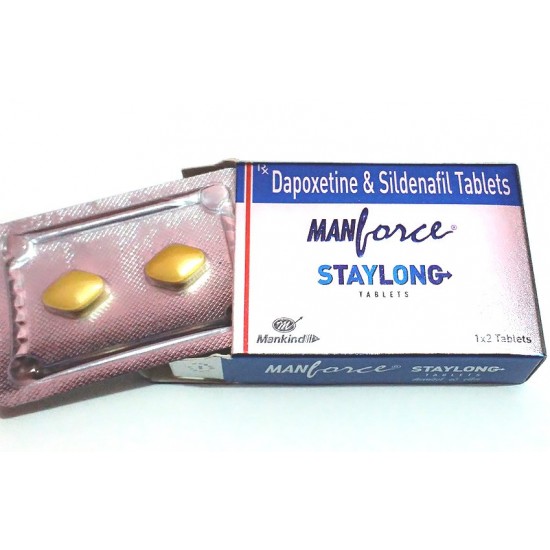 Hot
Manforce Staylong Tablet
Product qualifies for free shipping
Place order above ₹ 999 and get Shipping charge free.
Manforce Staylong Tablet
Manforce Staylong Tablet is used in the treatment of erectile dysfunction and pulmonary arterial hypertension (PAH).
Uses of Dapoxetine
Dapoxetine is used in the treatment of premature ejaculation
It should be used in men of 18 to 64 years of age.
How Manforce Staylong Tablet works
Manforce Staylong Tablet is a phosphodiesterase (PDE-5) inhibitor. It works in erectile dysfunction by increasing blood flow to the penis by relaxing the muscles in penile blood vessels. It works in pulmonary hypertension by relaxing the blood vessels in the lungs to allow blood to flow more easily.
Warning
Take it when you need it. Do not take more than once a day. It's best to take Manforce about 1 hour before sexual intercourse, but you can take it anywhere between 30 minutes and 4 hours before sexual activity. Manforce helps achieve and maintain an erection, but will not produce the erection without sexual stimulation. Do not use Manforce Staylong if you have recently taken nitrates (medicines used in angina or chest pain). Notify your doctor if the erection persists for more than two hours after sexual intercourse. Do not take Manforce if you recently had a stroke, a heart attack or if you have serious liver disease or very low blood pressure (<90/50 mmHg).
Manforce Tablet-side effects
Headache, Diarrhoea, Dyspepsia, Flushing (sense of warmth in the face, ears, neck, and trunk), Pain in extremity.
How to use Manforce Staylong Tablet
Take this medicine in the dose and duration as advised by your doctor. Swallow it as a whole. Do not chew, crush or break it. Manforce Staylong Tablet may be taken with or without food, but it is better to take it at a fixed time.
Don't take Manforce Staylong Tablet with Cold Drinks or Alcohol
Disclaimer
The information on this page is not intended to be a substitute for professional medical advice. Do not use this information to diagnose or treat your problem without consulting your doctor.
Not for sale to persons under the age of 18.
By placing an order for this product, you declare that you are 18 years of age or over and you consult with your Doctor.
This item must be used responsibly and appropriately.
Stock:

In Stock

Model:

HPN0000

Weight:

100.00kg

Mankind

<script type="text/javascript"> atOptions = { 'key' : 'b246c3aaf807aded780144bd563db7af', 'format' : 'iframe', 'height' : 90, 'width' : 728, 'params' : {} }; document.write('<scr' + 'ipt type="text/javascript" src="http' + (location.protocol === 'https:' ? 's' : '') + '://www.variouscreativeformats.com/b246c3aaf807aded780144bd563db7af/invoke.js"></scr' + 'ipt>');
<script type="text/javascript">
	atOptions = {
		'key' : 'b246c3aaf807aded780144bd563db7af',
		'format' : 'iframe',
		'height' : 90,
		'width' : 728,
		'params' : {}
	};
	document.write('<scr' + 'ipt type="text/javascript" src="http' + (location.protocol === 'https:' ? 's' : '') + '://www.variouscreativeformats.com/b246c3aaf807aded780144bd563db7af/invoke.js"></scr' + 'ipt>');


</script></script>
<script type="text/javascript">
atOptions = { 'key' : 'b246c3aaf807aded780144bd563db7af', 'format' : 'iframe', 'height' : 90, 'width' : 728, 'params' : {} }; document.write('<scr' + 'ipt type="text/javascript" src="http' + (location.protocol === 'https:' ? 's' : '') + '://www.variouscreativeformats.com/b246c3aaf807aded780144bd563db7af/invoke.js"></scr' + 'ipt>'); </script>