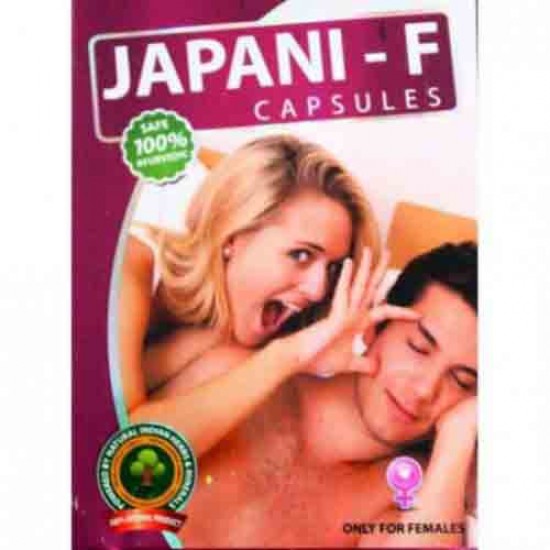 -7 % 2-3 Days
Japani M & Japani F for Male & Female Ayurveda Capsules
Product qualifies for free shipping
Place order above ₹ 999 and get Shipping charge free.
Japani M & Japani F for Male & Female Ayurveda Capsules
Remove Weakness in Male A Natural ; Herbal Approach to Male Enjoyment men often in his Pursuit of Playing the Multifaceted roles is burdened with Professional Responsibility , Household chores, taking care of his office etc.. the list just goes on. His world revolves entirely around his family weather it be his Wife, Kids or his in-laws. No wonder Sexual Intimacy is the last thing in her mind and one of the lowest in his list of Priority This can dramatically affects his sexual life which in turn reflects into strained relationship with his partner. This further leads to loss of sexual desire. This is nothing but Male Sexual Dysfunction ( FSD ) This Condition is more prevalent in Men who have undergone sexual trauma as a Teen or a child and also post delivery where in post partum depression can lead to loss of sexual desire. they are convey the dilemma to their concerned partners as well as doctors.


1 Strips (10 pcs) x Japani M Capsules for MEN
1 Strips (10 pcs) x Japani F Capsules for FEMALE


HELP LINE : 07692043877 // 08964938789 // 09644576368 // 09644290175





Stock:

2-3 Days

Model:

HPN501

Weight:

240.00kg

SKU:

HPN501

<script type="text/javascript"> atOptions = { 'key' : 'b246c3aaf807aded780144bd563db7af', 'format' : 'iframe', 'height' : 90, 'width' : 728, 'params' : {} }; document.write('<scr' + 'ipt type="text/javascript" src="http' + (location.protocol === 'https:' ? 's' : '') + '://www.variouscreativeformats.com/b246c3aaf807aded780144bd563db7af/invoke.js"></scr' + 'ipt>');
<script type="text/javascript">
	atOptions = {
		'key' : 'b246c3aaf807aded780144bd563db7af',
		'format' : 'iframe',
		'height' : 90,
		'width' : 728,
		'params' : {}
	};
	document.write('<scr' + 'ipt type="text/javascript" src="http' + (location.protocol === 'https:' ? 's' : '') + '://www.variouscreativeformats.com/b246c3aaf807aded780144bd563db7af/invoke.js"></scr' + 'ipt>');


</script></script>
<script type="text/javascript">
atOptions = { 'key' : 'b246c3aaf807aded780144bd563db7af', 'format' : 'iframe', 'height' : 90, 'width' : 728, 'params' : {} }; document.write('<scr' + 'ipt type="text/javascript" src="http' + (location.protocol === 'https:' ? 's' : '') + '://www.variouscreativeformats.com/b246c3aaf807aded780144bd563db7af/invoke.js"></scr' + 'ipt>'); </script>