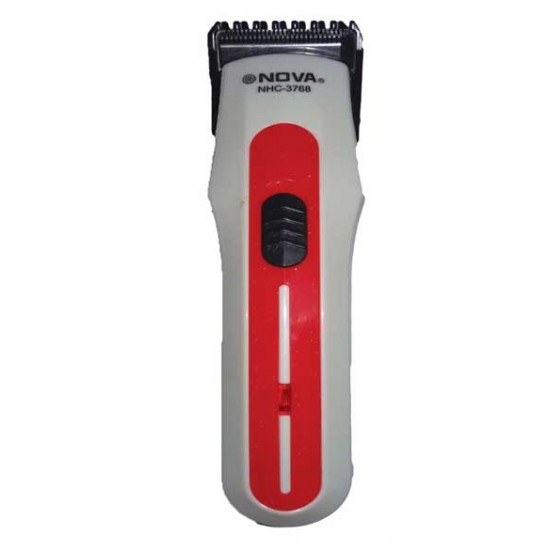 -5 % Out Of Stock
Nova NHC-3768 Hair Trimmer Clipper for Men
Product qualifies for free shipping
Place order above ₹ 999 and get Shipping charge free.
Nova NHC-3768 Hair Trimmer Clipper for Men



Product Details



This trimmer from Nova offers a powerful, yet ultra silent motor, an ergonomic design, and skin-friendly blades and comb tips, for the best performance on kids and adults hair. It also trims your hair upto 0.1 mm..it also comes with two levels of setting to maintain your stubble upto 9 mm and 10 mm.
Key Features


It also trims your hair upto 0.1 mm.
Designed With Innovative Technology
Gives Powerful Performance
User Friendly
Light & Handy
Stainless Steel Blade



Product Specification


Brand :Nova
Model: NHC-3768
Product Type:Trimmer
Rechargeable Battery: Yes
Color : as per availability
Recharge Time : 2 hours (Maximum)
Corded/Cordless : Cordless
Power Required (V)3 V
Blade Type : Stainless Steel Blade



You will get


1 x Trimmer
1 x Oil Can
1 x Brush
1 x Cord Wire
User Manual.
Color : You will get Random Color


Stock:

Out Of Stock

Model:

HPD884

Weight:

350.00kg

SKU:

HPD884

<script type="text/javascript"> atOptions = { 'key' : 'b246c3aaf807aded780144bd563db7af', 'format' : 'iframe', 'height' : 90, 'width' : 728, 'params' : {} }; document.write('<scr' + 'ipt type="text/javascript" src="http' + (location.protocol === 'https:' ? 's' : '') + '://www.variouscreativeformats.com/b246c3aaf807aded780144bd563db7af/invoke.js"></scr' + 'ipt>');
<script type="text/javascript">
	atOptions = {
		'key' : 'b246c3aaf807aded780144bd563db7af',
		'format' : 'iframe',
		'height' : 90,
		'width' : 728,
		'params' : {}
	};
	document.write('<scr' + 'ipt type="text/javascript" src="http' + (location.protocol === 'https:' ? 's' : '') + '://www.variouscreativeformats.com/b246c3aaf807aded780144bd563db7af/invoke.js"></scr' + 'ipt>');


</script></script>
<script type="text/javascript">
atOptions = { 'key' : 'b246c3aaf807aded780144bd563db7af', 'format' : 'iframe', 'height' : 90, 'width' : 728, 'params' : {} }; document.write('<scr' + 'ipt type="text/javascript" src="http' + (location.protocol === 'https:' ? 's' : '') + '://www.variouscreativeformats.com/b246c3aaf807aded780144bd563db7af/invoke.js"></scr' + 'ipt>'); </script>