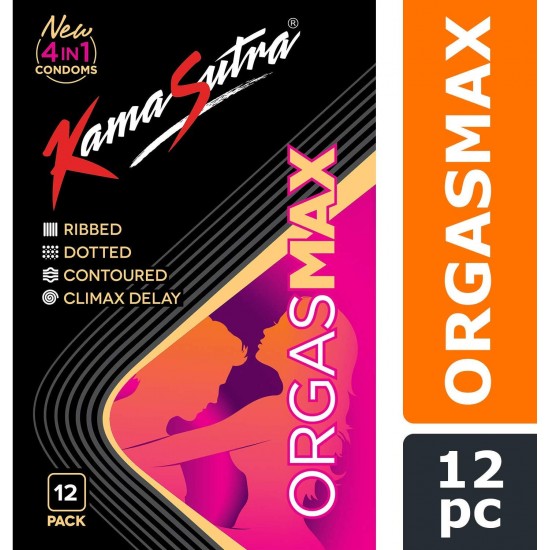 New -10 % Out Of Stock
Kamasutra Orgasmax Ultimate 4 in 1 Condoms 12s
Product qualifies for free shipping
Place order above ₹ 999 and get Shipping charge free.
Kamasutra Orgasmax Ultimate 4 in 1 Condoms 12s
Set the pleasure levels to the max with KamaSutra Orgasmax. Its unique 4-in-1 feature will drive her wild with desire and help you prolong the orgasmax pleasure. Ribbed, contoured, dotted and with climax delay properties - It's got it all so you can give it all! KamaSutra condoms are latex made and they not only protect against sexually transmitted diseases and unwanted pregnancies but also aims at providing extra pleasure.

No method of contraception can give you 100% protection against pregnancy, HIV or sexually transmitted infections. Please read the instructions, especially when using condoms for anal or oral sex.

Features
4-in-1 condom featuring ribbed, dotted, contoured and climax delay all in a single condom
Triple textured - dotted, ribbed and contoured to drive her wild
Enhanced with climax delay to prolong the orgasmic pleasure
Pink colored lubricated condoms
Stock:

Out Of Stock

Model:

24OBHPC012

Weight:

100.00g

SKU:

24OBHPC012
<script type="text/javascript"> atOptions = { 'key' : 'b246c3aaf807aded780144bd563db7af', 'format' : 'iframe', 'height' : 90, 'width' : 728, 'params' : {} }; document.write('<scr' + 'ipt type="text/javascript" src="http' + (location.protocol === 'https:' ? 's' : '') + '://www.variouscreativeformats.com/b246c3aaf807aded780144bd563db7af/invoke.js"></scr' + 'ipt>');
<script type="text/javascript">
	atOptions = {
		'key' : 'b246c3aaf807aded780144bd563db7af',
		'format' : 'iframe',
		'height' : 90,
		'width' : 728,
		'params' : {}
	};
	document.write('<scr' + 'ipt type="text/javascript" src="http' + (location.protocol === 'https:' ? 's' : '') + '://www.variouscreativeformats.com/b246c3aaf807aded780144bd563db7af/invoke.js"></scr' + 'ipt>');


</script></script>
<script type="text/javascript">
atOptions = { 'key' : 'b246c3aaf807aded780144bd563db7af', 'format' : 'iframe', 'height' : 90, 'width' : 728, 'params' : {} }; document.write('<scr' + 'ipt type="text/javascript" src="http' + (location.protocol === 'https:' ? 's' : '') + '://www.variouscreativeformats.com/b246c3aaf807aded780144bd563db7af/invoke.js"></scr' + 'ipt>'); </script>