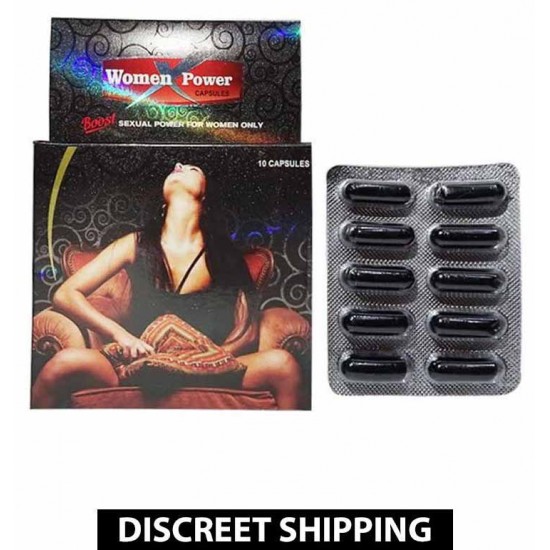 New -11 %
Women X Power Capsules 10s
Product qualifies for free shipping
Place order above ₹ 999 and get Shipping charge free.
Women X Power Capsules 10s
Women, like men, are victims of excessive work pressure, stress, and pollution. These lead to general debility, lethargy, and diminished sexual desire. Pure Passion offers Dr Chopra Women X Power capsule for treating ladies suffering from these weaknesses. Regular dosage of this medicine taken under the supervision of a doctor helps a lady to overcome weaknesses like stress, exhaustion, and inadequate sexual vigour.
This herbal capsule is highly effective in treating frigidity among ladies. Frigidity is a common symptom if you are suffering from anxiety, sleeplessness, and lack of energy and enthusiasm. Though these are more common among middle aged and elderly women, they are also prevalent among younger ladies.
A course of Dr Chopra Women X Power capsules would remove these weaknesses and make you energetic, enthusiastic, and sexually active. Indications of frigidity and any form of sexual debility are treated completely. Even if you are not suffering from any kind of weakness, intake of this herbal medicine enhances your energy level and increases your desire for love making.
Dosage
Normal dosage of this Ayurvedic product is 2 capsules per day with meal or as directed by physician. For long run benefits, the recommended daily dosage of 2 capsules should be continued for a period of 3 months.
Dr. Chopra Women X-Power is available with Pure Passion in strips of 10 capsules. We are discrete in executing your order so that the contents of your packing stays concealed till opening of your consignment.
Stock:

In Stock

Model:

24OBFM00101

Weight:

100.00g

<script type="text/javascript"> atOptions = { 'key' : 'b246c3aaf807aded780144bd563db7af', 'format' : 'iframe', 'height' : 90, 'width' : 728, 'params' : {} }; document.write('<scr' + 'ipt type="text/javascript" src="http' + (location.protocol === 'https:' ? 's' : '') + '://www.variouscreativeformats.com/b246c3aaf807aded780144bd563db7af/invoke.js"></scr' + 'ipt>');
<script type="text/javascript">
	atOptions = {
		'key' : 'b246c3aaf807aded780144bd563db7af',
		'format' : 'iframe',
		'height' : 90,
		'width' : 728,
		'params' : {}
	};
	document.write('<scr' + 'ipt type="text/javascript" src="http' + (location.protocol === 'https:' ? 's' : '') + '://www.variouscreativeformats.com/b246c3aaf807aded780144bd563db7af/invoke.js"></scr' + 'ipt>');


</script></script>
<script type="text/javascript">
atOptions = { 'key' : 'b246c3aaf807aded780144bd563db7af', 'format' : 'iframe', 'height' : 90, 'width' : 728, 'params' : {} }; document.write('<scr' + 'ipt type="text/javascript" src="http' + (location.protocol === 'https:' ? 's' : '') + '://www.variouscreativeformats.com/b246c3aaf807aded780144bd563db7af/invoke.js"></scr' + 'ipt>'); </script>