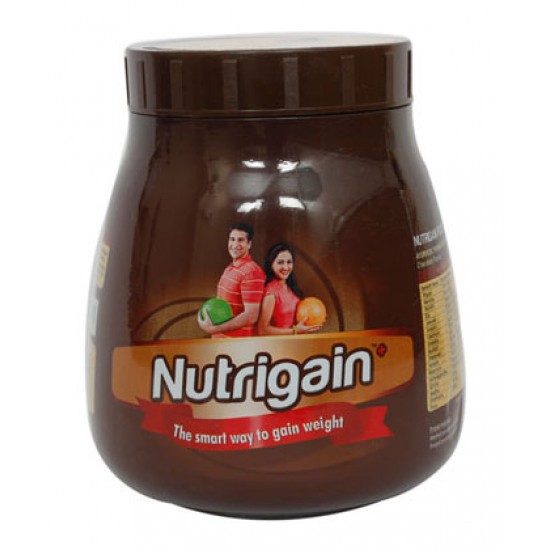 -10 %
Ayurwin Nutrigain Powder - 500g
Product qualifies for free shipping
Place order above ₹ 999 and get Shipping charge free.
Ayurwin Nutrigain Powder- 500g


Nutrigain medicine to increase weight, improves your metabolic rate which gives more energy naturally from the food you take and thereby increases the bulk and weight of your body
If you are ever wondering how to put on weight & get healthy toned body? Well, here's the answer to all these problems and more - because everything is power packed in one product called NUTRIGAIN.
A product made out of high quality nutrition & herbs.



A speedy formulation for building muscles, maintaining fitness and to help gain weight.




100% vegetarian and with no side effects.



Supplies vital minerals and energy required to gain weight.
Composition per 100gm(Approximate)
Carbohydrate74 gms
Protein15 gms
Fat05 gms
Grapes ext. 1.0gm
Dates ext.1.0gm
Sariva ext.0.8gm
Ashwagandha ext. 0.5gm
Gokshura ext.0.5gm
Jeeraka ext.0.5gm
Pippali ext.0.1gm
Maricha ext.0.1gm
Shunti ext.0.1gm
Amalaki ext.0.1gm
The herbal ingredients in Memento



Grapes


Studies shown that grape juice, red wines showed strong antiviral activity against poliovirus. which helps reduce harmful blood clots. It is the queen of fruits which helps greatly to decrease the acidity, thus benefiting the kidneys greatly. Helps in good blood circulation, which helps build body weight. it is also a quick source of energy. Helps as a blood purifier to increase the blood circulation which leads to good appetite, which again leads to good hunger.


Dates


Dates are useful as medicine for their tonic effect.
They are very useful for supplying energy and repairing waste.
It helps to cope up with the bacteria causing infection in the intestines.
Besides, dates are effective remedy for weak heart.
It reduces the skin roughage, & improves the skin glow.
It is good to maintain stamina & growth.


Amlaki


This is a berry which has extra curative powers. When applied topically, it cures all kinds of skin infections.
The gooseberry is extremely beneficial for all eye ailments.
Beneficial for the liver
The liver as we all know is a vital organ responsible for our proper digestion and food intake.
It purifies and cleanses the blood of all its impurities.
Good for hair growth & clean digestive system.


Jeeraka


It is native to Europe and West Asia. It grows wild in Himachal Pradesh and is cultivated in the hills (as summer crop) and in plains of North India (as annual winter crop) and in the hills of South India.
It is an annual or biennial glabrous herb, valued for its aromatic seeds. Roots are fusiform and thick. Stem is slender and the branches are grooved and hollow. The leaves are pinnately- dissected. Leaflets are ovate, cleft into linear, entire or dentate lobes. The flowers are in dense white umbels. In Fruits, the schizocarp are oblong-oval and yellowish brown in colour. The mericarps are aromatic, 4-6 mm long, hard and sharp, mostly curved, light to dark brown and with five prominent ribs. The separated mericarps (commonly called seeds) constitute the commercial caraway. It has a characteristic agreeable odor and an aromatic, somewhat warm and sharp taste.


Shatavari


Shatavari has been used in India for thousands of years for its therapeutic and tonic properties. It is an all-round tonic and rejuvenative which can be given to a person with any type, constitution, males or females, youngsters or elders. Indeed, Shatavari is the Universal Rasayana. The name Shatavari is symbolic which means one who possesses one hundred husbands. It has various synonyms like atirasa (very juicy), narayani (from which famous preparation Narayana taila is manufactured), satpadi (possesses hundreds of roots), suksma patra (has tiny leaves etc).


Ashwagandha


Ashwagandha has been used as a sedative, a diuretic, a rejuvenating tonic, an anti-inflammatory agent, aphrodisiac and an immune booster. It is especially beneficial in stress related disorders such as arthritis, hypertension, diabetes, general debility, etc. It has also shown impressive results when used as stimulants for the immune system. It is considered as an adaptogen that stimulates the immune system and improves the memory.
Ashwagandha increases the count of white blood cells and prepares the body to produce antigens against various infections and allergies. It is also considered as a tonic for the heart and lungs as its regular intake controls the blood pressure and regulates the heartbeat. It has a strong nourishing and protective effect on the nervous system.


Pippali


Pippali is certainly one of the most widely used of all Ayurvedic herbs. It is one of the best herbs for enhancing digestion, assimilation and metabolism of the foods we eat. It is also highly prized for its ability to enhance assimilation and potency of herbs in a synergistic formula (this is called the Yogavahi effect). You will find it in most of our formulas because of these and other benefits.
The Ayurvedic texts list Pippali as one of the most powerful Rasayana herbs, meaning it is a longevity enhancer. It also cleans the shrotas that transport nutrients and remove wastes, so it is considered important for purification. It balances two of the three laws of nature at work in the mind and body (Vata and Kapha). It also soothes the nerves to improve the quality of sleep at night.
Pippali enhances all 13 of the metabolic processes (Agnis) that create the 7 categories of bodily tissues (Dhatus).


Shunti


Acts as a digestive tonic and calms stomach upsets and cramps and flatulence when taken with lime juice, stimulates digestion when taken with rock salt and keeps intestinal muscles toned and increase bile flow.

It has warming properties on the upper respiratory tract and used to treat colds and flu.
Help in the management of asthmatic conditions
Stimulates blood circulation by reducing stickiness of platelets.
Anti-inflammatory properties are useful in conditions of external pain, swelling and arthritis by applying as a local paste or ginger oils.
Anti-nausea and anti emetic action and especially useful in pregnancy

Direction for use:


Add 25gms (2 Scoops) of granules dissolved into 50 ml of hot milk & Stir continuously until complete dissolution. Then add this mixture into 150 ml of hot milk. Add sugar to taste if required. Intake this Nutrigain plus drink after breakfast. For best result, advised 2 serving per day.



You will get
1 x 500g Ayurwin Nutrigain Powder

Stock:

In Stock

Model:

HPN529

Weight:

700.00kg

SKU:

HPN529

<script type="text/javascript"> atOptions = { 'key' : 'b246c3aaf807aded780144bd563db7af', 'format' : 'iframe', 'height' : 90, 'width' : 728, 'params' : {} }; document.write('<scr' + 'ipt type="text/javascript" src="http' + (location.protocol === 'https:' ? 's' : '') + '://www.variouscreativeformats.com/b246c3aaf807aded780144bd563db7af/invoke.js"></scr' + 'ipt>');
<script type="text/javascript">
	atOptions = {
		'key' : 'b246c3aaf807aded780144bd563db7af',
		'format' : 'iframe',
		'height' : 90,
		'width' : 728,
		'params' : {}
	};
	document.write('<scr' + 'ipt type="text/javascript" src="http' + (location.protocol === 'https:' ? 's' : '') + '://www.variouscreativeformats.com/b246c3aaf807aded780144bd563db7af/invoke.js"></scr' + 'ipt>');


</script></script>
<script type="text/javascript">
atOptions = { 'key' : 'b246c3aaf807aded780144bd563db7af', 'format' : 'iframe', 'height' : 90, 'width' : 728, 'params' : {} }; document.write('<scr' + 'ipt type="text/javascript" src="http' + (location.protocol === 'https:' ? 's' : '') + '://www.variouscreativeformats.com/b246c3aaf807aded780144bd563db7af/invoke.js"></scr' + 'ipt>'); </script>