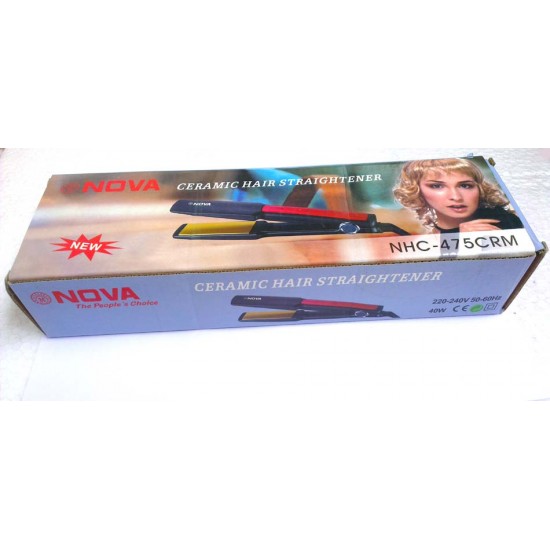 Out Of Stock

Nova Professional GENUINE Ceramic Hair Straightener NHC-835CRM for Hair Style
Product qualifies for free shipping
Place order above ₹ 999 and get Shipping charge free.
Nova Professional GENUINE Ceramic Hair Straightener NHC-835CRM for Hair Style
Genuine +Professional + Hair Straightener + BEST PRICE


Professional Hair Straightener
100 % Aluminum Sheet
Color Saver Technology Satin ions
Coloured hair never looked so vibrant & healthy
Temperature control 120-200 C
Fpr all hair type
PTC heater with fast heat up
Super straight styles, never stick to the hair

Excellent Quality
Amazing Hair Straighter
Have smooth & straight Hair with this wonderful Hair Straightener
Very easy to Use
Will straighten your hair without damaging it
Have smooth straight Hair with this Amazing Hair Straightener
Easy to Use
Will not burn hair unlike Iron
Light Weight
Affordable Price
Built in Temperature Regulator
100% Solid Ceramic Plates.
Superb Level of Straightening, Never Stick to the Hair.
On & Off Switch.
Power Indicator.
Input Power = 220-240 VAC / 50HZ.
Watt. = 45
1 x Nova NHC-835CRM Ceramic Hair Straightener
Stock:

Out Of Stock

Model:

HPD855

Weight:

480.00kg

SKU:

24OBHPD855

<script type="text/javascript"> atOptions = { 'key' : 'b246c3aaf807aded780144bd563db7af', 'format' : 'iframe', 'height' : 90, 'width' : 728, 'params' : {} }; document.write('<scr' + 'ipt type="text/javascript" src="http' + (location.protocol === 'https:' ? 's' : '') + '://www.variouscreativeformats.com/b246c3aaf807aded780144bd563db7af/invoke.js"></scr' + 'ipt>');
<script type="text/javascript">
	atOptions = {
		'key' : 'b246c3aaf807aded780144bd563db7af',
		'format' : 'iframe',
		'height' : 90,
		'width' : 728,
		'params' : {}
	};
	document.write('<scr' + 'ipt type="text/javascript" src="http' + (location.protocol === 'https:' ? 's' : '') + '://www.variouscreativeformats.com/b246c3aaf807aded780144bd563db7af/invoke.js"></scr' + 'ipt>');


</script></script>
<script type="text/javascript">
atOptions = { 'key' : 'b246c3aaf807aded780144bd563db7af', 'format' : 'iframe', 'height' : 90, 'width' : 728, 'params' : {} }; document.write('<scr' + 'ipt type="text/javascript" src="http' + (location.protocol === 'https:' ? 's' : '') + '://www.variouscreativeformats.com/b246c3aaf807aded780144bd563db7af/invoke.js"></scr' + 'ipt>'); </script>