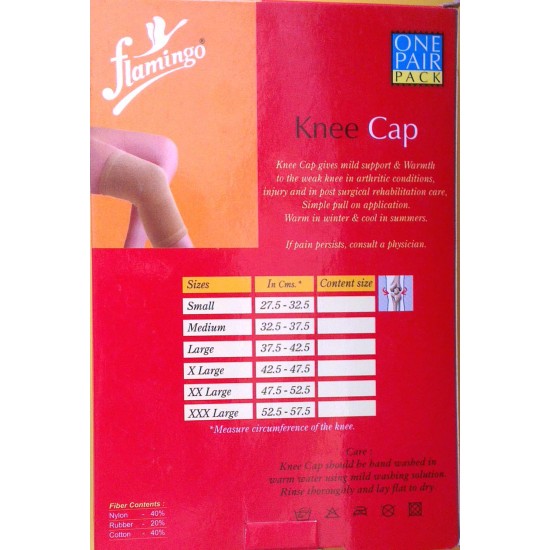 -25 %


Flamingo Knee Cap Knee Support Knee Splint 1 Pair (Large)
Product qualifies for free shipping
Place order above ₹ 999 and get Shipping charge free.
Flamingo Knee Cap Knee Support Knee Splint 1 Pair (Large)
Flamingo Knee Cap is a splendid product to provide excellent support and warmth to the knee. Experts recommend to use this product as a support for weak knee arthritic conditions and sports injury. This product is also ideal to be used for post surgical rehabilitation care. Available in S, M, L, XL, XXL and XXXL sizes, Knee Cap provides perfect compression to your patella, without causing any type of discomfort to the user.
·
Comfortable to wear
· Superior flexibility
· Durability for daily wear
· Made of soft material that is gentle on the skin
· Helps to ease chronic pain syndrome in the knee area
· Made with extreme care and precaution at our end
· Superior quality elastic is used in this product
· Does not leave a mark or an impression on the skin
· Used for stiff, swollen and painful knee that is caused by any kind of weakness or strain.
Stock:

In Stock

Model:

HPN407

Weight:

250.00kg

SKU:

HPN407

Flamingo

<script type="text/javascript"> atOptions = { 'key' : 'b246c3aaf807aded780144bd563db7af', 'format' : 'iframe', 'height' : 90, 'width' : 728, 'params' : {} }; document.write('<scr' + 'ipt type="text/javascript" src="http' + (location.protocol === 'https:' ? 's' : '') + '://www.variouscreativeformats.com/b246c3aaf807aded780144bd563db7af/invoke.js"></scr' + 'ipt>');
<script type="text/javascript">
	atOptions = {
		'key' : 'b246c3aaf807aded780144bd563db7af',
		'format' : 'iframe',
		'height' : 90,
		'width' : 728,
		'params' : {}
	};
	document.write('<scr' + 'ipt type="text/javascript" src="http' + (location.protocol === 'https:' ? 's' : '') + '://www.variouscreativeformats.com/b246c3aaf807aded780144bd563db7af/invoke.js"></scr' + 'ipt>');


</script></script>
<script type="text/javascript">
atOptions = { 'key' : 'b246c3aaf807aded780144bd563db7af', 'format' : 'iframe', 'height' : 90, 'width' : 728, 'params' : {} }; document.write('<scr' + 'ipt type="text/javascript" src="http' + (location.protocol === 'https:' ? 's' : '') + '://www.variouscreativeformats.com/b246c3aaf807aded780144bd563db7af/invoke.js"></scr' + 'ipt>'); </script>