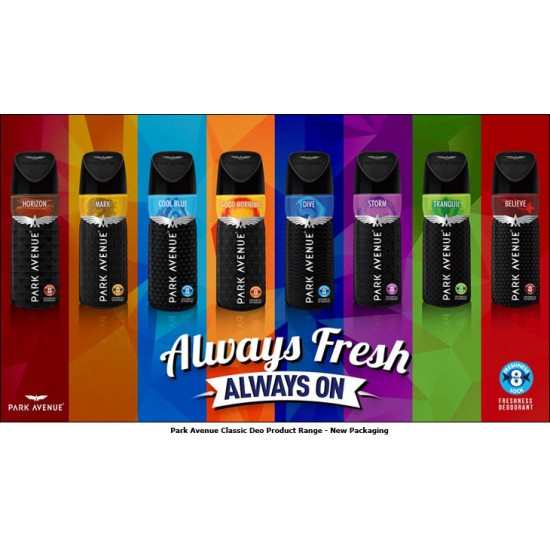 -12 %

Park Avenue Deodorants For Men
Product qualifies for free shipping
Place order above ₹ 999 and get Shipping charge free.
Park Avenue Deodorants For Men



Park Avenue Deodorant Spray for men represents the true polished man and is sure to surprise you with its deep and enchanting fragrance. Filled with sensual, masculine and fresh notes, Park Avenue Deodorant Spray is the true fragrance of new-age men. The fragrance uplifts your mood, mind, body and soul by keeping away perspiration and body odour.


About Park Avenue
J.K. Helene Curtis Ltd. is a part of The Raymond Group and has been in the personal grooming and toiletries industry since 1964. The company boasts of rich consumer brands like Park Avenue and Premium. The Park Avenue range includes fragrances, body care solutions, shaving systems and hair care solutions for the grooming needs of today's man.
You will get
1 x Park Avenue Deodorants For Men (150ml )
Stock:

In Stock

Model:

HPN0000

Weight:

495.00kg

<script type="text/javascript"> atOptions = { 'key' : 'b246c3aaf807aded780144bd563db7af', 'format' : 'iframe', 'height' : 90, 'width' : 728, 'params' : {} }; document.write('<scr' + 'ipt type="text/javascript" src="http' + (location.protocol === 'https:' ? 's' : '') + '://www.variouscreativeformats.com/b246c3aaf807aded780144bd563db7af/invoke.js"></scr' + 'ipt>');
<script type="text/javascript">
	atOptions = {
		'key' : 'b246c3aaf807aded780144bd563db7af',
		'format' : 'iframe',
		'height' : 90,
		'width' : 728,
		'params' : {}
	};
	document.write('<scr' + 'ipt type="text/javascript" src="http' + (location.protocol === 'https:' ? 's' : '') + '://www.variouscreativeformats.com/b246c3aaf807aded780144bd563db7af/invoke.js"></scr' + 'ipt>');


</script></script>
<script type="text/javascript">
atOptions = { 'key' : 'b246c3aaf807aded780144bd563db7af', 'format' : 'iframe', 'height' : 90, 'width' : 728, 'params' : {} }; document.write('<scr' + 'ipt type="text/javascript" src="http' + (location.protocol === 'https:' ? 's' : '') + '://www.variouscreativeformats.com/b246c3aaf807aded780144bd563db7af/invoke.js"></scr' + 'ipt>'); </script>