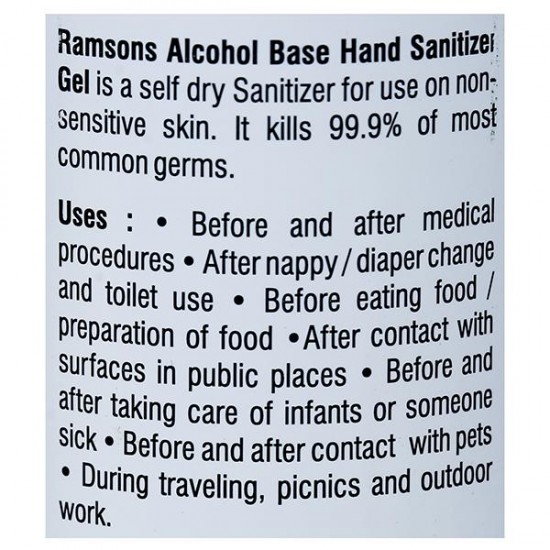 Ramsons Alcohol Base Gel Hand Sanitizer 100 ml
Ramsons Alcohol Base Gel Hand Sanitizer 100 ml
Quantity:- 100 ml
Container Type:- Bottle
Product Type:- Hand Sanitizer
Used For:- Disinfecting Hands.
Ideal For:- Men & Women.
Alcohol Content
Ethyl Alcohol(95%) IP- 62% v/v
Iso Propyl Alcohol IP- 3.3% v/v
Product Information
In order to keep harmful disease-causing germs at bay you have to maintain good hygiene. Thus disinfecting your hands at regular intervals becomes mandatory as you tend to touch your eyes, mouth and ears frequently in a day. Ramsons Alcohol Base Instant Hand Sanitizer kills 99.9% germs and keeps your hand clean on the go.
How to Use
Pour some amount of Hand Sanitizer on your palm and rub briskly until dry.
Stock:

In Stock

Model:

24OBFM002

Weight:

250.00g

SKU:

24OBFM002

<script type="text/javascript"> atOptions = { 'key' : 'b246c3aaf807aded780144bd563db7af', 'format' : 'iframe', 'height' : 90, 'width' : 728, 'params' : {} }; document.write('<scr' + 'ipt type="text/javascript" src="http' + (location.protocol === 'https:' ? 's' : '') + '://www.variouscreativeformats.com/b246c3aaf807aded780144bd563db7af/invoke.js"></scr' + 'ipt>');
<script type="text/javascript">
	atOptions = {
		'key' : 'b246c3aaf807aded780144bd563db7af',
		'format' : 'iframe',
		'height' : 90,
		'width' : 728,
		'params' : {}
	};
	document.write('<scr' + 'ipt type="text/javascript" src="http' + (location.protocol === 'https:' ? 's' : '') + '://www.variouscreativeformats.com/b246c3aaf807aded780144bd563db7af/invoke.js"></scr' + 'ipt>');


</script></script>
<script type="text/javascript">
atOptions = { 'key' : 'b246c3aaf807aded780144bd563db7af', 'format' : 'iframe', 'height' : 90, 'width' : 728, 'params' : {} }; document.write('<scr' + 'ipt type="text/javascript" src="http' + (location.protocol === 'https:' ? 's' : '') + '://www.variouscreativeformats.com/b246c3aaf807aded780144bd563db7af/invoke.js"></scr' + 'ipt>'); </script>