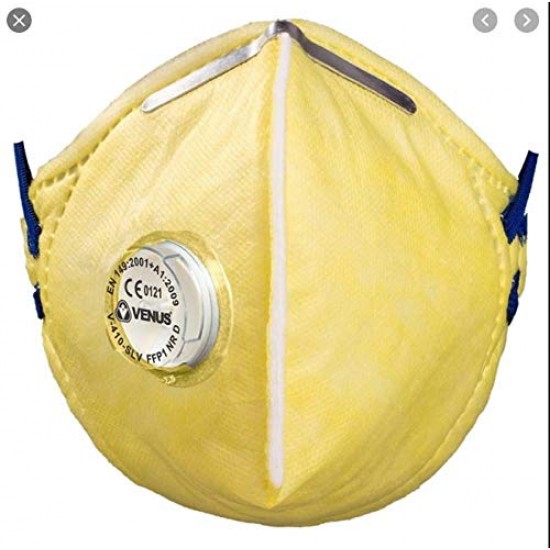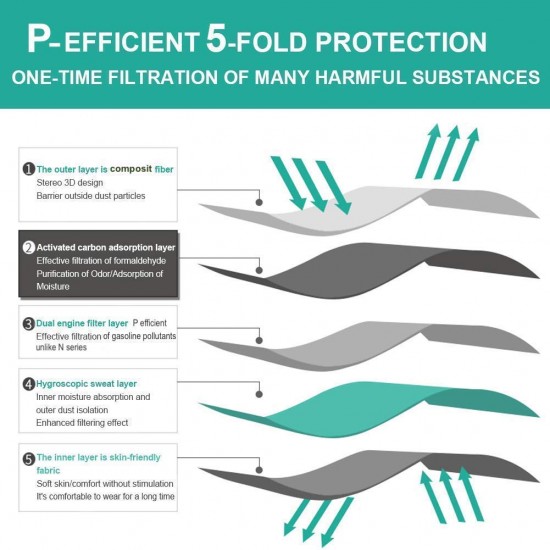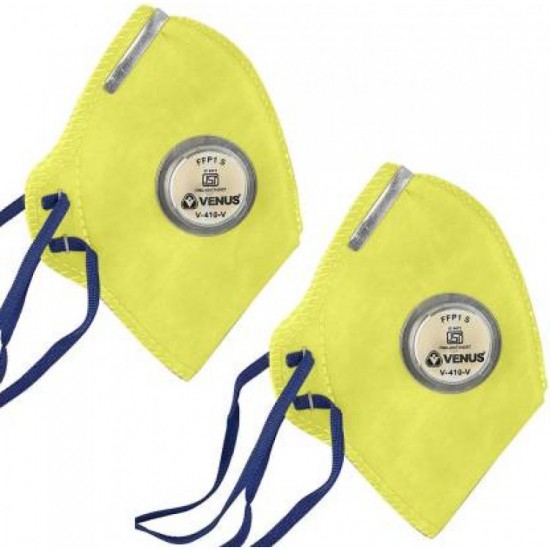 -25 % Out Of Stock
Venus V-410-V FFP1 S Respirator Face Mask for Corona Virus Bacteria Meets N95
Product qualifies for free shipping
Place order above ₹ 999 and get Shipping charge free.
Venus V-410-V FFP1 S Respirator Face Mask

Color: Yellow
-Model: V-410-V
-Class: FFP1-S
-M.U.L.: Up to 4 x OEL
-Latex-Free Textile Elastic for Long Life
-Skin Friendly
-Superior Microfibre Media Technology
-Stay Cool Butterfly Vent Valve
-Indian standard Institute ISI Marked
-Anti-clogging (NR D)
-Embedded Aluminium Nose Clip for Leak Proof Fit
-Noise Liner prevents Leakage
-Universal Fit for All Face Shapes
-Transparent Valve
-High Breathing Comfort
Made of premium cotton and non-woven fabric provides the feature of soft texture

Quick-drying
You can sit on the face comfortably
Seal correctly around mouth and face, breath freely to protect yourself against potentially life-threatening danger.
Free Size [ADVANCED PARTICULATE RESPIRATORS] These disposable, anti-dust masks help protect you from

inhaling small particulates like sawdust, metal shavings, pollen, allergens, and more.

[HEALTH COMFORT BREATHING] Cup-shaped design can provide more breathing space for the face, better

eliminate heat, and make breathing smoother and more comfortable

Flat Foldable mask which makes it easy to carry

Stock:

Out Of Stock

Model:

24OBFM001

Weight:

150.00g

SKU:

24OBFM001

<script type="text/javascript"> atOptions = { 'key' : 'b246c3aaf807aded780144bd563db7af', 'format' : 'iframe', 'height' : 90, 'width' : 728, 'params' : {} }; document.write('<scr' + 'ipt type="text/javascript" src="http' + (location.protocol === 'https:' ? 's' : '') + '://www.variouscreativeformats.com/b246c3aaf807aded780144bd563db7af/invoke.js"></scr' + 'ipt>');
<script type="text/javascript">
	atOptions = {
		'key' : 'b246c3aaf807aded780144bd563db7af',
		'format' : 'iframe',
		'height' : 90,
		'width' : 728,
		'params' : {}
	};
	document.write('<scr' + 'ipt type="text/javascript" src="http' + (location.protocol === 'https:' ? 's' : '') + '://www.variouscreativeformats.com/b246c3aaf807aded780144bd563db7af/invoke.js"></scr' + 'ipt>');


</script></script>
<script type="text/javascript">
atOptions = { 'key' : 'b246c3aaf807aded780144bd563db7af', 'format' : 'iframe', 'height' : 90, 'width' : 728, 'params' : {} }; document.write('<scr' + 'ipt type="text/javascript" src="http' + (location.protocol === 'https:' ? 's' : '') + '://www.variouscreativeformats.com/b246c3aaf807aded780144bd563db7af/invoke.js"></scr' + 'ipt>'); </script>