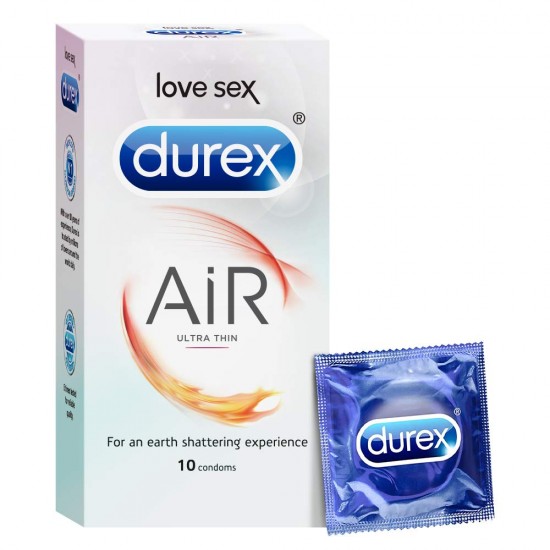 Hot -17 % Out Of Stock
Durex Air Ultra Thin Condom 10s
Product qualifies for free shipping
Place order above ₹ 999 and get Shipping charge free.
Durex Ultra Thin Air Condoms -10pcs pack
The Durex Air condoms take on two of your biggest quests, complete intimacy and total protection. They are durable and are tested to withstand breakage.

Greater Sensitivity and Intimacy
These ultra-thin condoms fit like second skin, so you and your partner can enjoy a heightened sense of intimacy. The straight-walled fit of these condoms heightens sensitivity.
Protection Guaranteed
Each condom in this pack is dermatologically tested to ensure complete protection. Made of premium-quality latex, they are durable enough to withstand passionate sessions.
Lubricated for Your Pleasure
It's easy to be fully present during intimate moments with your partner because these condoms have a pleasant scent, so you aren't distracted. The condoms also ease friction, which is a good thing, both for you and your partner.
Stock:

Out Of Stock

Model:

HPN0000

Weight:

100.00kg

<script type="text/javascript"> atOptions = { 'key' : 'b246c3aaf807aded780144bd563db7af', 'format' : 'iframe', 'height' : 90, 'width' : 728, 'params' : {} }; document.write('<scr' + 'ipt type="text/javascript" src="http' + (location.protocol === 'https:' ? 's' : '') + '://www.variouscreativeformats.com/b246c3aaf807aded780144bd563db7af/invoke.js"></scr' + 'ipt>');
<script type="text/javascript">
	atOptions = {
		'key' : 'b246c3aaf807aded780144bd563db7af',
		'format' : 'iframe',
		'height' : 90,
		'width' : 728,
		'params' : {}
	};
	document.write('<scr' + 'ipt type="text/javascript" src="http' + (location.protocol === 'https:' ? 's' : '') + '://www.variouscreativeformats.com/b246c3aaf807aded780144bd563db7af/invoke.js"></scr' + 'ipt>');


</script></script>
<script type="text/javascript">
atOptions = { 'key' : 'b246c3aaf807aded780144bd563db7af', 'format' : 'iframe', 'height' : 90, 'width' : 728, 'params' : {} }; document.write('<scr' + 'ipt type="text/javascript" src="http' + (location.protocol === 'https:' ? 's' : '') + '://www.variouscreativeformats.com/b246c3aaf807aded780144bd563db7af/invoke.js"></scr' + 'ipt>'); </script>