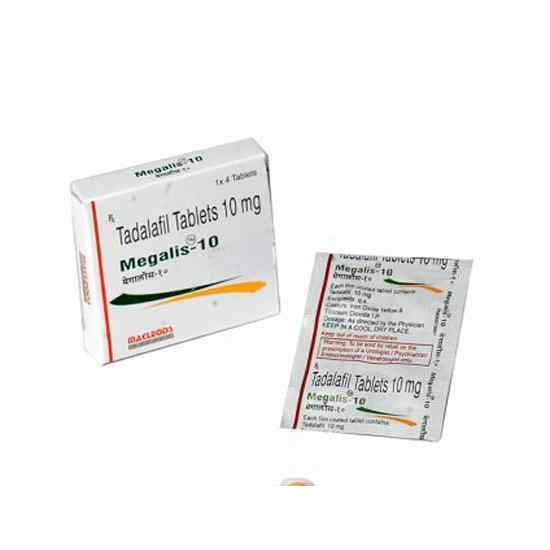 Hot -8 %
Megalis 10 Tablet (4pcs)
Product qualifies for free shipping
Place order above ₹ 999 and get Shipping charge free.
Megalis 10 Tablet (1pcs)
Ingredient: Tadalafil
Manufacturer: MACLEODS
Megalis 10 tablet works for women in a great way. It increases the ultimate sex desire, speeds up the arousal, helps produce profuse lubricant to have better sex, assists in getting balanced sex hormones, getting easy and enjoyable orgasm with multiplicity, it also gives energy for longer sex act every time and gives heavenly pleasure and satisfaction.

Erectile dysfunction is very common among men worldwide. There are efficient and safe treatments available to help you get and maintain an erection during sexual intercourse. Some are even naturally made and some are synthetic like Tadalafil.
Megalis 10 is a Brand name of composition "Tadalafil", it has 10mg Tadalafil – an active ingredient used to treat erectile dysfunction. It works by improving blood flow to the penile area during sex. The increase of blood will cause an erection of the penis.
How to Use
Megalis 10 Tadalafil is usually given just once per day.
Follow the directions listed on the product label.
Do not take this drug in larger or smaller doses or for an extended period of time unless otherwise instructed by your doctor.
Tadalafil can be taken with or without a meal.
Swallow it whole with water.
For erectile dysfunction, take this drug at least half an hour before sexual activity.
Side Effects
The side effects of Miss Me Tadalafil are just the same to other ED generic drugs. A headache, facial flushing, nasal congestion, nausea, dizziness, stomach upset, diarrhea, and muscle pain are just some of the most common minor side effects of Tadalafil drugs. In rare occasions, signs of severe allergic reactions like difficulty of breathing, swelling, and wheals may appear and require immediate medical attention.
Avoid Drug
If you are allergic (hypersensitive) to tadalafil or any of the other ingredients of TADALAFIL.
If you are taking any form of organic nitrate or nitric oxide donors such as amyl nitrite. This is a group of medicines ("nitrates") used in the treatment of angina pectoris ("chest pain"). TADALAFIL has been shown to increase the effects of these medicines.
If you are taking any form of nitrate or are unsure tell your doctor.
If you have serious heart disease or have had a recent heart attack.
If you have had a recent stroke.
If you have low blood pressure or uncontrolled high blood pressure.
If you have ever had loss of vision because of non-arteritic anterior ischemic optic neuropathy (NAION), a condition sometimes described as "stroke of the eye".
Be aware that sexual activity carries a possible risk to patients with heart disease because it puts an extra strain on your heart. If you have a heart problem you should tell your doctor. The following are reasons why TADALAFIL may also not be suitable for you.
Disclaimer
By placing an order for this product, you declare that you are 18 years of age or over and you consult with your Doctor.
Do not use this information to diagnose or treat your problem without consulting your doctor.
Highly Warning / Be care Before Use
* Don't take this medicine with Cold Drinks or Soft Drinks Or any Hot Drinks.
* Without inform Don't try to use this medicine that may be a cause of Death.
Stock:

In Stock

Model:

HPN0000

Weight:

100.00kg
<script type="text/javascript"> atOptions = { 'key' : 'b246c3aaf807aded780144bd563db7af', 'format' : 'iframe', 'height' : 90, 'width' : 728, 'params' : {} }; document.write('<scr' + 'ipt type="text/javascript" src="http' + (location.protocol === 'https:' ? 's' : '') + '://www.variouscreativeformats.com/b246c3aaf807aded780144bd563db7af/invoke.js"></scr' + 'ipt>');
<script type="text/javascript">
	atOptions = {
		'key' : 'b246c3aaf807aded780144bd563db7af',
		'format' : 'iframe',
		'height' : 90,
		'width' : 728,
		'params' : {}
	};
	document.write('<scr' + 'ipt type="text/javascript" src="http' + (location.protocol === 'https:' ? 's' : '') + '://www.variouscreativeformats.com/b246c3aaf807aded780144bd563db7af/invoke.js"></scr' + 'ipt>');


</script></script>
<script type="text/javascript">
atOptions = { 'key' : 'b246c3aaf807aded780144bd563db7af', 'format' : 'iframe', 'height' : 90, 'width' : 728, 'params' : {} }; document.write('<scr' + 'ipt type="text/javascript" src="http' + (location.protocol === 'https:' ? 's' : '') + '://www.variouscreativeformats.com/b246c3aaf807aded780144bd563db7af/invoke.js"></scr' + 'ipt>'); </script>